(This guide is regularly updated with the most up to date & accurate information)
Hanauma Bay is one of Oahu's top 3 places to visit and with around 1000 visitors per day it is one of the world's most popular snorkel destinations!
Here is everything you need to know when it comes to snorkeling at Hanauma Bay!
Why We Love Snorkeling Hanauma Bay
Hanauma Bay is actually formed from a volcanic cone, and after many years of wave erosion cutting through the Southeast wall of the cone it has given shape to the bay as we see it today.
In the Hawaiian language "Hanu" means bay, and "uma" means curved – So you can clearly see how Hanauma Bay got its name.
Hanauma Bay was voted the best beach in the United States in 2016, and there's a reason this is the most popular snorkel spot on Oahu.
Not only are you guaranteed to see an amazing abundance of sea life here, but the fish that reside here are the friendliest and tamest that you will see anywhere.
The marine life are very used to human presence and won't rush away when you get close to them. In fact, you will have no problems at all taking some amazing underwater selfies here!
Difficulty Level
Hanauma Bay is perfect for snorkelers of all ages and abilities.
The bay is well protected from the waves due to its surrounding walls, which means that the water inside the bay stays relatively calm.
It's also pretty shallow so the conditions here are perfect for beginners and children.
Snorkeling Hanauma Bay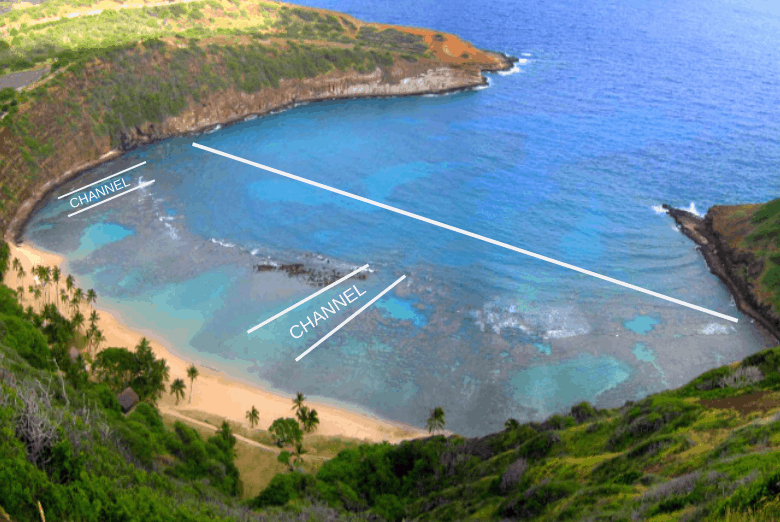 The education centre provides really useful information on which areas of the bay to explore, as well as what you might see while snorkeling Hanauma Bay.
There are many places to explore when you're snorkeling in Hanauma Bay – For beginners we suggest sticking between the shore and the reef as the water is the calmest and shallowest in this area (about 1-2 meters).
It's also recommended that beginners and people who aren't the strongest swimmers avoid the two channels, as well as the central channel (as indicated above), as the currents are strongest here.
More experienced swimmers can swim further out and explore the deeper waters (around 6 meters deep), which is where you are more likely to see Green Turtles.
Where To Enter
You can enter the water from any part of the beach, however the area that is directly across from the opening of the bay can contain quite strong currents, as can the two channels that lead to the ocean. Try to avoid these areas if you are a beginner or not a strong swimmer.
Off Limits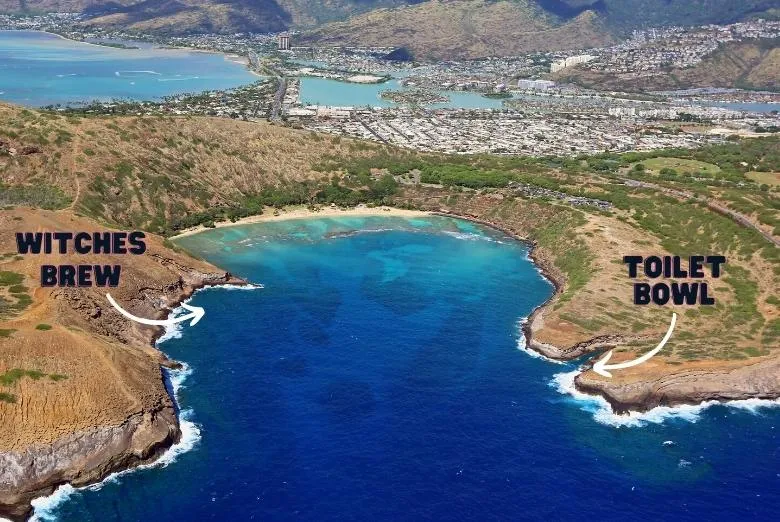 Toilet Bowl – The water in the 'Toilet Bowl' rises and falls with the ocean's tide, and resembles a toilet flushing (thus giving it it's name). The water rises as it enters the bowl through an underground tunnel as the waves come crashing in, and then 'flushes' as the water is drained back out through the same tunnel. The Toilet Bowl was closed to the public in the early 2000's due to safety concerns and visitors sustaining injuries on the sharp rocks.
Witches Brew – Another area to avoid is this small peninsula and cove to the right side of the bay where the waves can be very rough, and the currents strong.
Marine Life In Hanauma Bay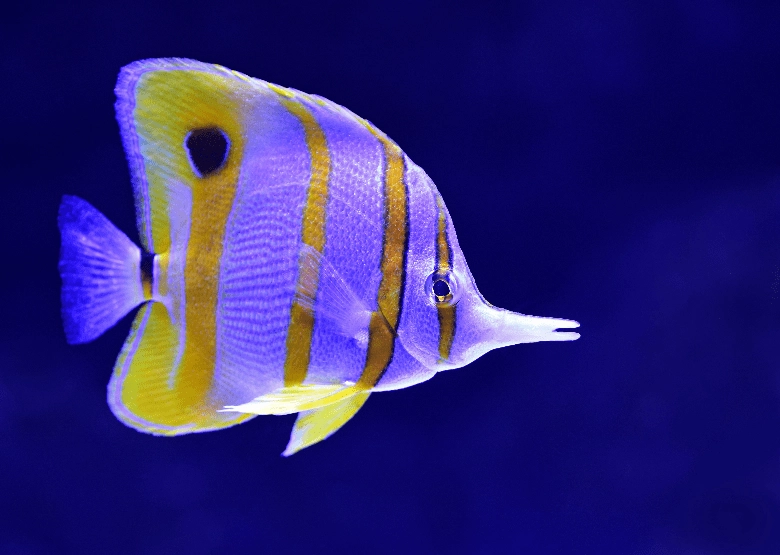 As a protected marine life conservation area you are guaranteed to see many different species of tropical fish.
In fact there are over 400 different types of tropical fish that can be seen when snorkeling Hanauma bay!
That includes the State fish of Hawaii – humuhumunukunukuapua'a and sea turtles
Common sightings include:
Yellow Tang
Butterfly Fish
Parrot Fish
Wrasse
humuhumunukunukuapua'a
Green Sea Turtles
Getting To Hanauma Bay
Hanauma Bay is located on the South East side of the Island, and is about 12 miles East of Honolulu.
Driving & Parking Lot Information
The route from Waikiki to Hanauma Bay is a simple drive of around 20-25 minutes down the H1 Highway (which then turns into the Kalanianaole Highway).
The parking lot at Hanauma Bay has 300 spaces and is on a first come first serve basis (and it fills pretty quickly!).
Once these parking spaces become full security will turn away any additional vehicles from entering.
The cost of parking is;
$3.00 per vehicle
$1.00 for residents
Public Transport
City bus service into the bay is currently suspended.
There is the Line 1 bus which stops at the Koko Marina shopping centre (approx 1 mile away from Hanauma Bay).
Hanauma Bay Snorkel Tours
As per the City & County of Honolulu Parks & Recreation Department – all Commercial activities are suspended.
This means all commercial vehicles such as snorkel tours, shuttle buses and taxi's are not allowed to operate in or transport visitors into Hanauma Bay.
Getting Into Hanauma Bay Nature Preserve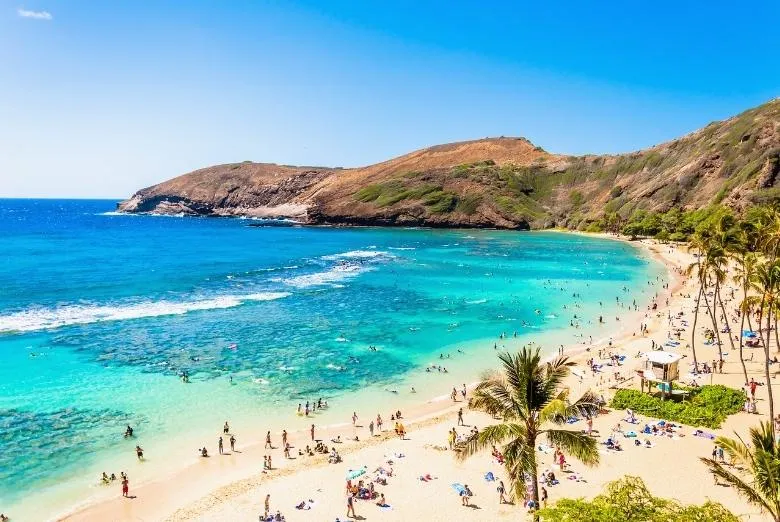 Hanauma Bay Tickets & Reservations
Entry into Hanauma Bay is by reservation, and must be paid for in advance.
Tickets for Hanuama Bay Nature Reserve can be booked online here
Bookings can be made online up to two days in advance starting from 7am (Hawaiian time). Walk-ins without a reservation are possible, but are very limited.
Reservations sell out extremely quickly! To avoid disappointment I recommend that you be on the website, ready to make your booking at 7:00am the full two days in advance.
The park entrance fee is;
$25 per adult
FREE – Children aged 12 & under
FREE – Local Residents
FREE – Active U.S military & their dependents (Identification required)
There is also free entry into the park without a reservation between 6:45 and 9;00am for local residents (Identification required).
Hanauma Bay Opening Times
Hanauma Bay is open Wednesday through to Sunday, from 6:45am to 4:00pm
Entry into Hanauma Bay is from 6:45am to 1:30pm.
All visitors must watch a 9 minute orientation video prior to entry
No entry is allowed into the park after 1:30pm
The beach must be cleared by 3:30pm
All visitors must leave the park by 4:00pm
Hanauma Bay is closed all day on Monday and Tuesday in order to give the coral reef and marine life time to rest and recover.
Restaurants
There's a snack bar at the upper level of the park which is open 8:30am until 2pm Wednesdays through Sundays.
The snack bar serves food such as cheeseburgers, hot dogs, fries, sandwiches, as well as a variety of snacks and drinks.
You're welcome to bring your own food if you would prefer to have a picnic – Small coolers are allowed for those who wish to bring their own snacks and non alcoholic drinks.
Snorkel Equipment Rental
I always recommend purchasing and using your own snorkel gear.
There's nothing quite like the quality, comfort and fit of your own gear (which hasn't had thousands of other peoples mouths on it 🙂 )
If that hasn't convinced you to invest in your own, then snorkel gear can be rented at the park, which also includes rental of prescription snorkel masks as well.
The cost of snorkel equipment rental is $20.00 per snorkel set.
Lockers can also be rented if you wish to store any valuables (keys, cellphones, handbags etc).
I would also say that underwater cameras are an absolute must as you'll want to capture as much as you can of this underwater park!
Facilities
Showers, restrooms and changing facilities are all located at the park.
The hill down towards the beach is pretty steep. It's a nice walk down to the beach but after an action packed day of snorkeling the steep walk back up can be pretty tiring!
Conveniently, there's a tram that runs up and down this hill all day. (The tram is free to use).
Lifeguards
Lifeguards are present at Hanauma Bay.
Summary
There's a reason Hanauma bay has previously been voted the best beach in the USA.
It's a must visit location for snorkeling in Oahu, especially as it's a great area for all ages and abilities.
It is really important that if you do plan on visiting that you arrive early!
The car park fills up extremely quickly and will stay full for most of the day. (In order to avoid disappointment I recommend arriving before 7am).
This way you'll avoid most of the crowds and ensure getting a parking spot – early mornings also tend to provide the best conditions to explore this pristine marine ecosystem, so you're more likely to spot an abundance of tropical fish at this time!