This is a review of the ScubaPro Hydros Pro BCD
We've researched the Hydros Pro in-depth so that you don't have to, to help you determine if this BCD is the best choice for you.
Despite it's hefty price tag, the Scubapro Hydros is a very comfortable, versatile, robust and highly praised BCD among most divers who own one.
In this review we'll dive into whether the Hydros Pro lives up to the hype and we'll discuss the features that make this BCD such a popular option, including;
Who it's best suited for
It's various pros and cons
And we'll also present you with some popular alternatives
Check it out!
Scubapro Hydros Pro Overview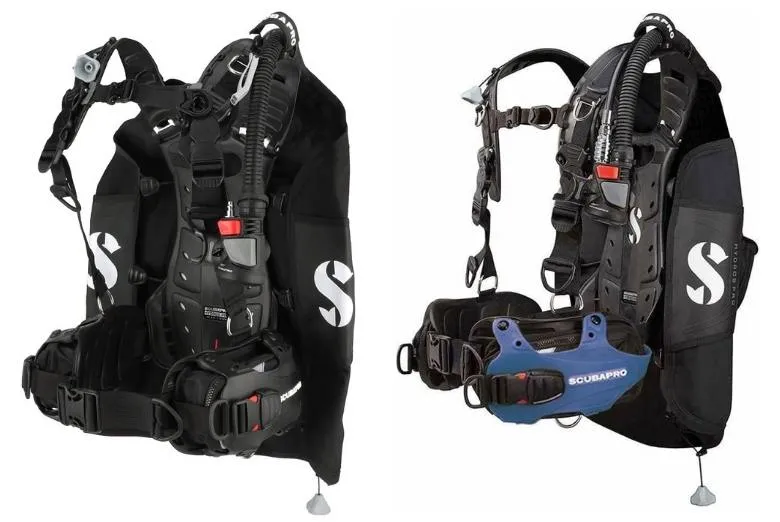 Specs
Style: Back inflate
Lift Capacity: 36lbs -40.5lbs / 16.3kg – 18.3kg – [Size Dependent]
Storage: 4 D-Rings / 2 pockets + additional attachment points
Integrated Weight System: Yes (plus 2 back trim pockets)
Weight Capacity: Releasable: 24lbs (11kg) | Non-Releasable: 9lbs (4kg)
Scubapro Hydros Pro Features
Materials & Injection Moulded Gel Harness
One of the main features of the Hydros is it's use of the material monprene in it's construction.
The harness is injection moulded with soft but very robust monprene gel. The use of this rather than the usual nylon used in most other BCD's is designed to help improve comfort, stability, manoeuvrability and buoyancy control.
The comfort of the monprene gel harness is in that it will mould and conform to your body. And because of this you end up with an ergonomic fit, with no hard pressure points (especially across the shoulders).
Besides comfort and durability, monprene provides further benefit in that it retains virtually no water. So you'll find that as soon as you exit the water your BCD is already practically dry!
That means the Hydros is ready to pack back into your dive bag only a few hours after you've left the water, which is much quicker than many other BCD's.
The Hydros Pro's near zero inherent buoyancy requires less weight – thanks to this feature many users have even been able to ditch a little bit of lead when wearing this BCD.
And finally, the monprene is very grippy! This material essentially clings to you and this really helps to eliminate the BCD slipping or riding up in any way.
The Hydros Pro is also very durable – Monprene being extremely resistant to uv chemicals, and the harness is extremely resistant to abrasion as well.
Travel Friendly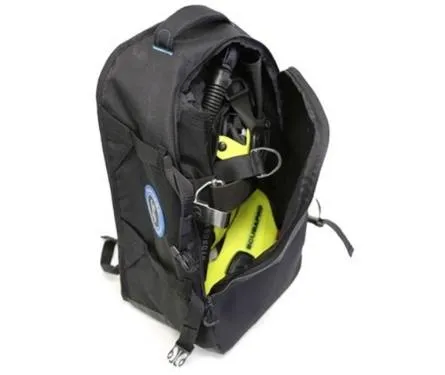 A big selling point for the Hydros is that it's a BCD that works well for both local diving and travel diving.
It's really ruggedly built and has a decent amount of lift. So even if your local diving happens to be cold water drysuit diving, this BC will be fine.
It also however, can be converted into a more friendly travel BCD!
The integrated weights are removable, so you can leave them at home entirely, or remove them to pack separately.
It has a near zero inherent buoyancy as is, and so you might find that you are able to ditch some of the weight you're using with your current BCD when switching to the Hydros Pro.
The straps can also be switched out and replaced with the lighter weight travel harness that's included for a further weight reduction.
The material that it's made from also lends to this BCD being great for travel, as it has basically zero water retention (the BCD will be basically already dry as soon as you step out the water) so it's going to have a much lower post dive weight than other BCD's as a result.
All in all once converted to 'travel' mode, you're looking at a BCD weight of around 6lbs/3kg.
It's not the lightest travel weight, but it's not that far from it! Plus, the Hydros is probably going to withstand general wear and tear much better than a dedicated travel BCD.
Customizable/Modular Construction
The modular construction of this BCD makes repairs on the Hydros Pro really simple and convenient. (Plus Scubapro offer a limited lifetine warranty on the the seams of the BCD so you can be confident of getting your BCD repaired if ever required)
Virtually every component including the buckles is replaceable, without the need for stitching which helps to make the Hydros Pro a BCD 4 life, and give it an extended lifespan.
It's also a very cuztomizable BCD thanks to it's ability to add or remove weight systems, straps and pouches as desired by the user.
Balanced Power Inflator VS Air 2
The Hydros can be purchased with BPI (balanced power inflator), or with Air2. If you're not sure which one's right for you, here's some more info to hopefully help!
Air2 is basically an alternative to your octopus.
Air2 is marketed as being safer than having an octo, as in an OOA (out of air) situation you will be reaching for your inflator, something which you will be accustomed to constantly reaching for, as opposed to reaching for your octo which you would never reach for unless for an emergency situation.
However, in an out of air situation most divers aren't familiar and haven't been trained on how to use Air2. Whichever setup you choose to go for, it's important to practice your skills with it so that you are comfortable in any kind of emergency situation, and it's important that if you're diving with a less common setup (Air2), that you make your buddy aware of your setup.
Having a BCD with Air2 instead of on octopus means you get to save a little weight – It's not a large amount of weight or space that you're saving and most people will barely notice it.
But for those who need to save as much weight as possible and make every ounce count then this could be beneficial to you.
Using Air2 also means having one less hose, which some divers may gravitate positively towards as well, but this is not a particularly significant saving either.
Hydros Pro Additional Accessories
There are a number of attachment points on the Hydros Pro that allow for you to attach all sorts of different accessories.
These multi attachment points allow you to customize and accessorize easily, and in a configuration that will best suit you and the type of diving you do.
The different accessories that can be purchased include:
Additional storage/cargo pockets
Additional weight pockets
Dive knife mount
Mini bungee loops (good for attaching a torch, octo hose, marker buoy)
Color kit (there are 9 different colors to choose from to customize the hydros pro)
Mini D-Rings
The Hydros also comes with a really good travel bag, which has room for your entire dive kit (with your fins clipped to the outside).
Scubapro Hydros Pro BCD – Pros vs Cons
Pros
The gel harness is extremely comfortable to wear
Over time the patented injection molded monprene gel harness will mold to fit you.
Very durable and robust
It's modular construction means that most of its parts can be replaced, making this a BCD for life
Many of the replaceable parts are also easily replaced without the need for stitching
It's a highly customizable with tons of attachment points and also plenty of additional accessories
The material has almost no water retention and lower post dive weight as a consequence. (Thanks to it's non absorbency it basically dries instantly! Making it a great travel BCD)
It easily converts into a lighter weight travel BCD so is perfect for both local and traveling divers
The travel backpack which is included is very high quality, and can easily fit your entire dive kit within it
It has near zero inherent buoyancy, therefore less lead is required
Body grip gel prevents the BCD from riding up
The Hydros Pro is available in both male and female versions (the ladies Hydros Pro's articulated shoulder straps being narrower, shorter, and shaped specifically to fit a woman's torso better, and the air bladder is slightly smaller than the mens – 35l vs 40l)
Cons
It's expensive
The additional accessories are not included with the BCD and must be purchased at additional cost.
The main weight pockets are not as quickly released as you would want in an emergency (you have to un-click the buckle and then you will be able to slide out the weight pocket).
Alternatives To The Hydros Pro
Not sure about the Hydros Pro?
Here's some popular alternatives to it:
Scubapro Hydros Pro VS Hydros X
The Hydro Pro and the Hydros X are effectively the same BCD.
The difference between them, is that the Hydros Pro is a back-inflate style BCD, whereas the Hydros X is a jacket style BCD.
Which one you choose is going to really going to come down to what kind of style BCD you prefer to wear.
If this is your first BCD and you don't know yet what you prefer.. then I go way more in depth into the differences in BCD types in this article.
Scubapro Hydros Pro VS Zeagle Ranger
| | | | | | | |
| --- | --- | --- | --- | --- | --- | --- |
| | Lift Capacity | Storage | Dry Weight | Weight Capacity | Price | Materials |
| Hydros Pro | 36-40.5lbs | 4 D-Rings & 2 Pockets | 10.95lbs | Releasable: 24 lbs, Non-Releasable: 9lbs | $$$$ | Thermoplastic Elastomer (TPE), Injection Molded Monprene Gel |
| Zeagle Ranger | 44 lbs | 6 D-Rings & 2 Pockets | 8.4 lbs | Releasable 36 lbs, Non-Releasable: 16 lbs | $$$ | Ranger: 1050 Denier Ballistic Nylon w/Urethane Bladder Material, Radio Frequency (RF) Welded Seams |
Scubapro Hydros Pro VS Apeks Black Ice
The Apeks Black Ice is another very popular back-inflate style BCD on the market.
The Black Ice has more storage space on the BCD itself (in the form of 2 large pockets), as opposed to the Hydros which features lots of attachment points with the option of adding additional storage pockets via those attachments
| | | | | | | |
| --- | --- | --- | --- | --- | --- | --- |
| | Lift Capacity | Storage | Dry Weight | Weight Capacity | Price | Materials |
| Hydros Pro | 36-40.5lbs | 4 D-Rings & 2 Pockets | 10.95lbs | Releasable: 24 lbs, Non-Releasable: 9lbs | $$$$ | Thermoplastic Elastomer (TPE), Injection Molded Monprene Gel |
| Apeks Black Ice | 52lbs | 5 D-Rings & 2 Pockets | 9.7lbs | Releasable: 32lbs, Non-Releasable: 10lbs | $$$ | Apeks: Air Cell: 840 Denier Nylon, Harness: Nylon Webbing, Hardware: Stainless Steel & Plastic |
Final Thoughts
The Hydros Pro is a great choice for the single tank diver whether it be in cold or warm water, and whether your diving locally or throwing it in a bag and traveling across the world with it.
It is expensive.. but, it's versatility is pretty hard to find in other back inflate style BCD's.
The gel harness is ultra comfortable and will conforms to your body, plus with both mens and womens sizes available it's easy to find the right size and fit for you.
Finally, the Hydros Pro is rugged and durable and with it's modular design allowing for the easy replacement of parts, can be maintained and repaired so that it will last you for years and years.
Check out the Hydros Pro in more detail below: