When it comes to a pair of water shoes for snorkeling there are a few different style and design options to consider – but not many.
I have purposely kept this list short and to the point as there's no point showing you a list 10+ different water shoes when 5 of them are exactly the same design!
So with that being said, here are the best water shoes for snorkeling depending on your specific needs…
Best Water Shoes For Snorkeling [2022]
---
The Best Water Shoes For Snorkeling Reviewed
Mares Equator – Best Snorkel Shoes Overall
Features
Use on their own or with open heeled fins
2mm Neoprene
If you're looking for a pair of water shoes that are versatile then the Mares Equator would be a great pick.
They're great for snorkeling, scuba diving, and as general beach shoes for wading through rock pools.
These are 2mm neoprene so are designed for warm water use, and they'll keep your feet nice and warm throughout your snorkel.
The protection they offer to your foot is good – with a re-inforced heel and a rubber sole that is thick enough to protect your feet against sharp objects, plus they have excellent grip on the bottoms.
The Equators are comfortable to wear for a full day at the beach and their slip on design makes them really easy to put on and take off.
The height of the boot is perfect too (for water shoes that are worn with fins you don't want a shoe that sits really low on the ankle as the fin can press up against it and be really uncomfortable – I speak from experience!).
I haven't personally found a downside to these boots other than the sizing is a bit large (you may find that you need to size down one whole size)
pros
Very Lightweight and comfortable
Versatile
Good foot protection & grip
Good at keeping sand & rocks out
---
Cressi Ibiza – Best with open heel snorkel fins
Features
3mm neoprene
Fin keeper to prevent slippage
The Cressi Ibiza are very similar in style to the Mares Equators but with a few key differences.
They have a slightly thicker neoprene (3mm) to the Mares Equator (2mm), so that little bit of extra thickness will give you a bit more warmth.
The sole of the boot is also quite similar to the Mares but the Ibiza's offer even further toe protection as they are more re-inforced in this area.
The other key differences is that the heel of the shoe has a special shelf which is to prevent your fin straps from slipping down which is very useful.
They have a flexible but sturdy rubber sole to protect your feet against sharp objects but the grip on the bottom of the Cressi Ibiza though decent but not as grippy as the Mares Equator.
On the flip side the Ibiza has better toe/foot protection than the Mares – Go with the one that has the feature most important to you.
pros
Reinforced heel and toe for extra protection
Excellent price point
Fin strap keeper prevents straps from slipping.
Suitable for a wide variety of water sports
cons
The Mares Equator have better grip
---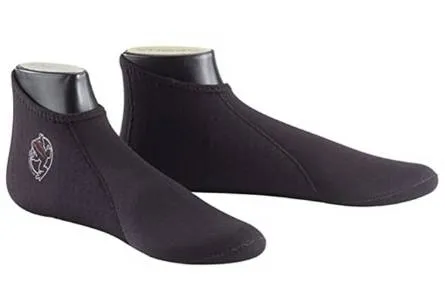 Features
OK these aren't a water shoe – they're an aqua sock. But for some people these might be just the kind of thing you're looking for.
A dive sock is a good purchase to help you get a better fit if your full foot fins happen to be slightly too loose. They will also help to prevent any chaffing your fins might cause and will help to keep your feet nice and warm.
The protection the Akona's offer is that of purely warmth when in the water, and against walking on hot sand. They are just a neoprene sock so they do not have any re-inforced protection for the toes and heel, nor do they have a hard/grippy sole.
But if you will mainly be on a nice sandy beach, snorkeling much of the time, and are using a full foot snorkel fin then these might be all that you would need.
I've also read of some people using these as general socks if they have particularly cold feet, or using them with their hiking boots if going through rivers (although I can't say that I have experience with this).
pros
Protection from chaffing/rubbing from fins
Can help fins fit more secure & prevent slippage
Provide additional warmth
Can use as a sock in other water activities as well
cons
Really don't offer much in the way of protection
No grip
---
Body Glove CT Cinch – Best For Snorkeling & Beach Exploring
Features
Barefoot style shoes
Integrated drainage holes
Versatile enough to use for a wide range of other water sports as well, like kayaking, canoeing, boating etc.
These are a barefoot style shoe which are very popular these days. Barefoot style footwear do not bunch your toes together which allows your toes to spread out which is much better for grip, stability and overall foot health.
These shoes have holes in the soles for water drainage, and the soles are thin enough that you can feel the texture of the ground you're walking on, but thick enough that they provide good comfort for long wear, and offer really good protection.
These are a little bigger and bulkier of course then the other water shoes in our list, so will create a little more drag when swimming, but they are still quite lightweight and offer really good grip and protection.
pros
Suited for a wide range of water activities
Very grippy/excellent traction on wet surfaces
Comfortable to wear for long durations
Drain water quickly
cons
Bulkier than the others on our list
---
WateLvse – Best Kids Water Shoes For Snorkeling
The WateLvse water shoes are a very budget friendly option.
They're very lightweight and dry very quickly, and they also roll up very small that you could quite happily pack them away in a beach bag & they would take up minimal room.
These are versatile enough to use snorkeling, beach exploring, kayaking or for a day at the water park even.
They'll give good protection to the foot from hot sand, plus an adequate amount of foot protection in general on most beaches (but not enough protection on something like the lava rock in Hawaii for example).
Durability with these is an issue – They should last you for the summer (obviously that depends a little on how rigorously they are used), but then they will need replacing.
But these are a very cheap water shoe and your child will have grown out of them by the following summer anyway!
If you're looking for something more rugged and with much more foot protection against sharp objects then I would suggest something like the UFBEN Kids Water Shoe, which is similar to the BodyGlove.
pros
Really lightweight
Roll up very small for easy packing
Really good at keeping sand out
Good budget option
cons
Durability is an issue
Only basic foot protection
---
Do You Need Water Shoes For Snorkeling?
No. You only need a snorkel and a mask to be able to go snorkeling.
But you don't really need a knife and fork to eat either – But it does make it more convenient though doesn't it 🙂
OK. Maybe that's not the most perfect analogy! But you get what I'm saying.
Water shoes for snorkeling are not essential but they do offer a large amount of benefits with no real draw backs – So why not use them? Here's the many benefits they offer….
Benefits of Water Shoes For Snorkeling
Protection
There are many hazards on the beach and in the sea which could harm your feet in one way or another.
Flip flops are pretty standard footwear for most beach goers, but lets face it, they provide very limited protection and are downright useless on slippery surfaces.
Hot sand, sharp and slippery rocks, coral and spiny sea creatures like sea urchins all have the potential to injure your feet.
Water shoes will offer protection to your feet from all of the above so you can focus on enjoying yourself, and not worrying about any hidden dangers.
Thermal Protection
Wearing water shoes will help to keep your feet nice and toasty in cold or temperate waters whilst your swimming.
And conversely, they'll protect you from burning your feet on red hot sand as well.
Grip
You'll be using your water shoes in wet conditions and on slippery surfaces so good traction and grip is extremely important.
The grippy sole of your water shoe will give you much better traction on slippery surfaces like boat decks or wet rocks.
Comfort
One of the main benefits of wearing a water shoe for snorkeling is that they can make your snorkel fins feel much more comfortable.
A water shoe or water sock will prevent the fin from chaffing against your ankle or the top of the foot, and help to prevent getting blisters.
And it almost goes without saying that having some protection on your feet will make walking on hot sand or sharp rocks a much more comfortable experience!
What To Look For In A Snorkel Shoe
I see a lot of websites recommending the athletic/sneaker type water shoes for snorkeling which doesn't make much sense to me honestly.
When you're snorkeling you definitely don't want to have anything too heavy and clunky on your feet if you can avoid it.
The sneaker type water shoes will create a lot of drag whilst your swimming which will tire your legs out, and also be really uncomfortable to swim in for extended periods.
The ideal water shoe for snorkeling is going to be one that is more lightweight so they don't create drag, but still gives you all the benefits in a water shoe that you want (like protection, grip and warmth).
This is why I recommend water shoes like the Cressi Ibiza or the Mares Equator – they are lightweight and comfortable for snorkeling and diving, whilst giving you the protection you need.
A slip on design would definitely be my preference and what I recommend as it would be best to avoid shoes with laces and parts that can potentially snag on rocks/corals etc.
Final Verdict
For comfort, warmth and protection the Mares Equator and Cressi Ibiza fit the bill as two of the best snorkeling shoes.
So it's time to leave those flip flops back in your hotel room the next time you go snorkeling, and reap all of the many benefits a proper snorkeling shoe provides!