The USA has it all when it comes to snorkeling.
From coast to coast the waters, the surroundings and the wildlife on show varies wildly.
With fresh waters that are so crystal clear that they're like glass to some of the most beautiful reefs teeming with colorful fish.
Here's our breakdown of the very best places to snorkel in the USA.
Hanauma Bay, Oahu, Hawaii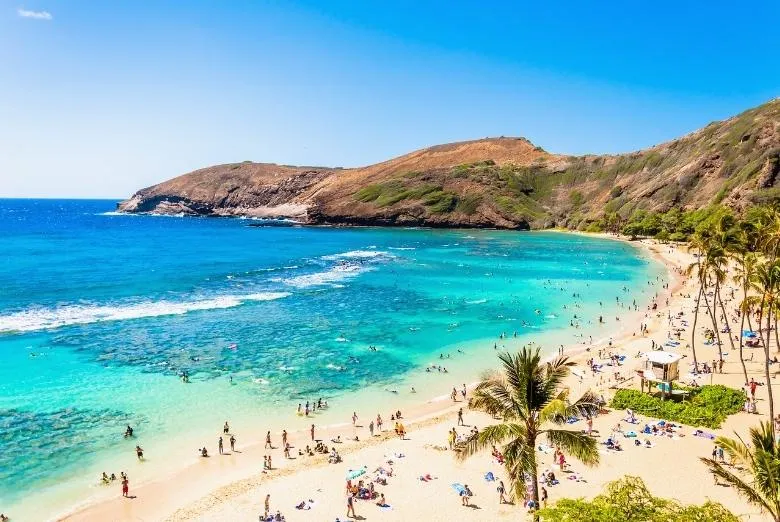 Hanauma Bay is one of Oahu's top 3 places to visit and is one of the world's most popular snorkel destinations!
As a protected marine life conservation area you are guaranteed to see some diverse marine life, and the fish that reside here are the friendliest and tamest that you'll ever find.
The marine life are very used to human presence and won't rush away when you get close to them. In fact, you will have no problems at all taking some amazing underwater selfies!
There are over 400 different types of tropical fish that can be seen when snorkeling Hanauma bay, which includes the State fish of Hawaii – humuhumunukunukuapua'a and sea turtles
Buck Island Reef National Monument, US Virgin Islands
There are many beautiful places to snorkel in the Virgin islands however one of the best places to snorkel is Buck Island.
This small uninhabited island (1.5 miles north of St Croix), was inducted into the National Park system in 1961 in order to help preserve it
Buck Island is home to one of only a few underwater snorkel trails within the US – A curated underwater adventure home to some really exciting sea life (other notable ones include Phil Foster State Park, Fl and Blue Ridge, N.Carolina).
The large reef which extends around much of the island attracts green sea turtles, hawksbill sea turtles, a large variety of tropical fish species as well as some very impressive elkhorn coral formations.
The Virgin islands isn't short of amazing snorkeling however, Trunk Bay being antoher fantastic snorkeling spot that is worth visiting.
Key West, Florida
It's fairly safe to say that Florida has the best snorkeling in mainland USA.
In fact Florida has some of the best snorkeling in the world.
But the Florida Keys and Key West in particular have a number of amazing snorkeling spots. (As well as incredible scuba diving and an impressive list of beautiful state parks).
If you're interested in the best snorkeling in Florida then check out these articles:
Otherwise, here's a quick breakdown of some of the Florida Keys best..
Dry Tortugas National Park
At the westernmost extent of the Florida Keys lies Dry Tortugas National Park. A remote group of seven islands located about 70 miles west of Key West, that are only accessible by boat or seaplane.
The combination of pristine reefs and vast amount of marine life to see makes Dry Tortugas one of the best snorkeling sites in Key West.
The reefs here are stunning and largely undisturbed. And its very vibrant and healthy coral reefs are home to an abundance of marine life.
The price of entry to Dry Tortugas ($190 dollars per adult) along with the 2 hour boat trip can be a little too much for some, but the reward for making this trip is absolutely worth it!
Other activities that you can enjoy at Dry Tortugas National park are scuba diving, fishing, kayaking and camping.
Key Largo, Florida
John Pennekamp Coral Reef State Park
John Pennekamp Coral Reef State Park was the very first undersea park created in the USA.
At 25 miles in length and extending 3 miles into the Atlantic ocean, there're tons of water related activities to enjoy.
The coral reef located here is the only living coral reef with the continental US, making snorkeling at Pennekamp Park some of the most exciting and memorable that Florida has to offer.
Whilst snorkeling the reef you can expect to see eels, rays, turtles, grouper, parrotfish, some really vibrant healthy corals. Then only 100 feet off shore you can explore the remains of an early Spanish shipwreck (complete with cannons), and you can also visit the hugely popular Christ of The Abyss sculpture.
Santa Catalina Island, California
Catalina Island, located 22 miles off the coast of southern California, is a wildly popular tourist spot year round and one of the best snorkeling destinations in the U.S.
Whether you join a snorkeling tour or head out on your own you're sure to see a some really exciting
The best snorkeling spots are within the marine preserve of Avalon park, Lovers cove and Casino point.
Whilst snorkeling Cataline Island you can see things like: Garibaldi (the state fish of california), giant sea bass, barracuda, lobsters, octopus, and harbor seals & sea lions (if you're lucky!).
La Jolla Cove – San Diego, California
San Diego's La Jolla Underwater Park is a protected marine park which spans over 6000 acres.
La Jolla Cove sits within the marine refuge area of the park where activities like fishing, surfing and boogie boarding are all prohibited.
This helps to protect and preserve the marine life, and is what makes the area perfect for snorkelers and scuba divers!
Whilst snorkeling La Jolla you can see plenty of garibaldi, rays and also sea lions and seals can be spotted year round.
The best time to snorkel here however is during the summer months (between May and October), as this is when leopard sharks migrate to the area!
South Padre Island, Texas
Laguna Madre Bay is the best location for snorkeling in Texas
It's beautifully warm waters, excellent clarity and shallow waters (averaging 5 feet) make it a great location for snorkelers of all abilities, and you're sure to see some really interesting wildlife here.
Catfish, stingrays, eels, crabs, hermit crabs, balloonfish, moon jellyfish (and many more!) can all be seen here.