A mask, snorkel and fins is all you need to explore what feels like a different world.
It's amazing that such a simple and inexpensive activity can truly turn into the experience of a lifetime.
From your doorstep to the far reaches of the globe. Swimming with tiny pygmy seahorses, gigantic humpback whales, or even through endless crowds of stingless jellyfish – These are the best places in the world for snorkeling..
Baa Atoll, Maldives
The warm tranquil waters of the Maldives make it a destination favorite for water lovers.
This small chain of atolls in the Indian Ocean stretches across 115 square miles and over 1,100 species of fish can be found here.
There is an amazing amount of diversity of marine life to be found in the Maldives. Many of the resorts in the Maldives are blessed with a large amount of coral reef, and it is this abundance of reefs, marine life combined with warm tranquil waters that make this one of the best places to snorkel in the world.
The Maldives are renowned for having beautifully crystal clear waters, and you'll be spoiled for choice when it comes to the amount of reefs to explore.
The marine diversity in this tropical paradise ranges from small colorful fish, to reef sharks, turtles, manta rays and whale sharks.
Marine Life In The Maldives
Butterflyfish, Angelfish, Clownfish, Damselfish, Wrasse, Parrotfish, Frogfish, Squirrelfish, Trumpetfish, Goatfish, Sweetlips, Whale Sharks, Turtles, Manta Rays, Reef Sharks & more.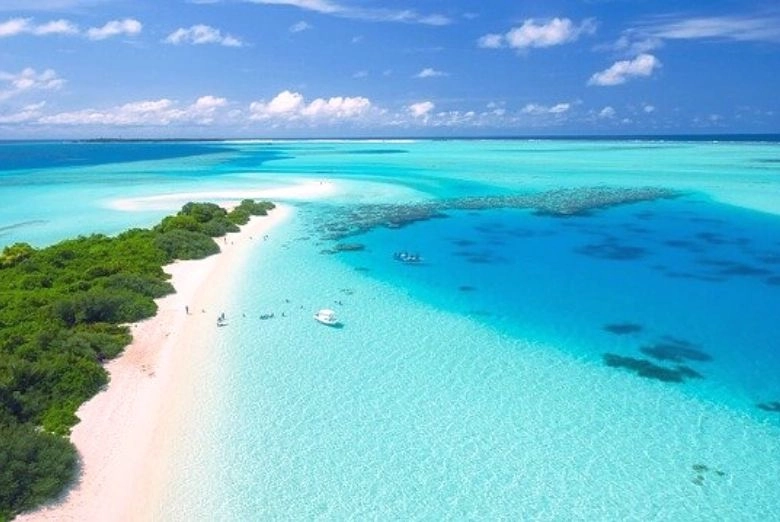 Molokini Crater, Hawaii
A short boat ride off the cost of Maui brings you to one of the most popular snorkel and scuba diving locations of Hawaii.
Molokini Crater is truly one of the best places to go snorkeling in Hawaii, and this marine life conservation district is teeming with a diverse and exciting array of marine animals.
The waters of Molokini crater boast visibility of up to 150 feet, giving you plenty of opportunity to spot the approximate 250 different species of fish and 38 different coral species.
Why not check out our Hawaii Snorkel Guide for everything you need to know when it comes to snorkeling in Hawaii.
Marine Life In Hawaii
Moray Eels, Octopus, Reef Sharks, Humuhumunukunukuapua'a, Humpback Whales, Turtles, Parrotfish, Goatfish, Tang, Damselfish, Butterflyfish, Spinner Dolphins & more.
Raja Ampat, Indonesia
Raja Ampat snorkeling is widely regarded as some of the best snorkeling in the world.
Located in the Coral Triangle, the marine biodiversity to be found here is simply out of this world. From small macro life, to large pelagics. Raja Ampat snorkeling is guaranteed to be memorable.
The opportunities for exciting encounters here are endless, and if you're also into scuba diving, Raja Ampat also happens to be one of the very best scuba destinations in the world.
Marine Life in Raja Ampat
Pygmy Seahorses, Manta Rays, Turtles, Napoleon Wrasse, Sweetlips, Batfish, Triggerfish, Angelfish, Groupers, Reef Sharks, Fusiliers, Barracuda, Boxfish, Butterflyfish & more.
Galapagos Islands, Ecuador
One of the best scuba diving destinations in the world is also one of the best snorkeling destinations.
It may not be one of the easiest locations to reach – But the final destination is so worth it.
When people come to the galagos for snorkeling, they come to snorkel with large marine animals like whales, sharks, dolphins, sea lions and even penguins.
For that reason, snorkeling the Galapagos Islands provides a one of a lifetime experience like no other.
Marine Life In The Galapagos
Sea Lions, Fur Seals, Dolphins, Turtles, Reef Sharks, Sunfish, Penguins, Rays, Angelfish, Parrotfish, Marine Iguanas, Moray Eels, Scorpionfish, Wrasse, Sea Horses & more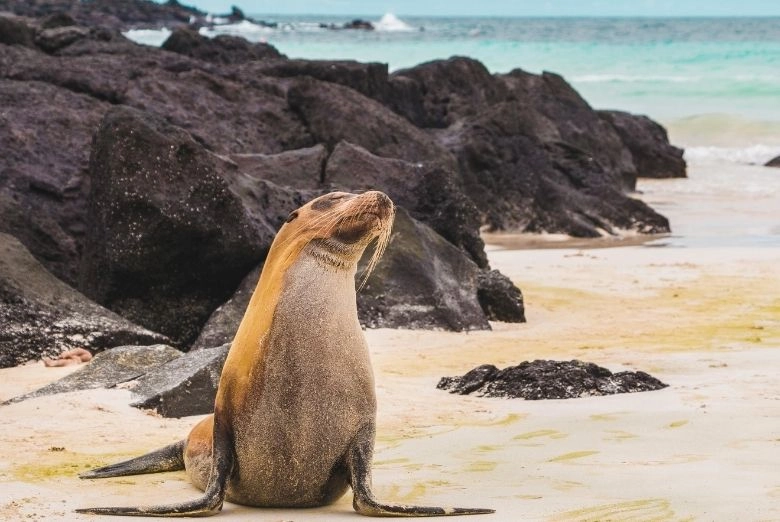 Great Barrier Reef, Australia
The world's largest coral reef system has made it into our list of best snorkelling in the world, who'd have thunk it?
This natural wonder of the world comprises over 2,900 individual reefs and 900 islands, and is so large that it's visible from outer space!
As you can imagine there is a large amount of marine biodiversity to be found here – Over 1,500 different species of fish, including many species which are endemic to this reef system.
One spectacular beach which is located here can also be found in our top 10 list of the world's most Iconic beaches.
Marine Life In The Great Barrier Reef
6 species of sea turtle, dugongs, clownfish, giant clams, octopus, parrotfish, wrasse, tang, grouper, manta rays, butterflyfish, reef sharks, damselfish, scorpionfish triggerfish & more
Jellyfish Lake, Palau, Micronesia
One of the most unique snorkeling locations on our list is Jellyfish lake.
It's really all in the name here – this marine lake on Eil Malk Island in the South Pacific is home to millions of jellyfish.
Each day the golden and moon jellyfish migrate from one side of the lake to the other to allow the algae that the jellyfish feed off to grow.
Since these jellyfish live off algae, and there are no natural predators around, they have basically evolved to be completely harmless!
Since they can't sting you you're free to drift across the lake, floating amongst them for a truly unique experience.
Marine Life in Jellyfish Lake
Jellyfish! Golden Jellyfish & Moon Jellyfish
Bora Bora, French Polynesia
Many of the resorts on Bora Bora offer bungalows that sit right above the water meaning some of the best snorkeling is literally right on your doorstep!
'The Aquarium' as it is so aptly named is simply teeming with marine life. The fish here are very friendly in their search for food and certainly not shy, often coming right up to you in search of a handout.
Marine Life in Bora Bora
Black Tip Reef Sharks, Turtles, Lemon Sharks, Manta Rays, Stingrays, Angelfish, Triggerfish, Parrotfish, Clownfish, Wrasse, Moray Eels & more
Silver Bank, Dominican Republic
Between January and April as many as around 3,000 Humpback Whales gather in Silver Bank – a reef in the Caribbean Sea just 80 miles from the Dominican Republic.
The area, designated a marine sanctuary, provides a safe haven for these large mammals to mate, give birth and to raise their young.
This area is just one of three locations in the entire world where you can enjoy this once in a lifetime experience of swimming and snorkeling with humpback whales
Marine Life In Silver Bank
Humpback Whales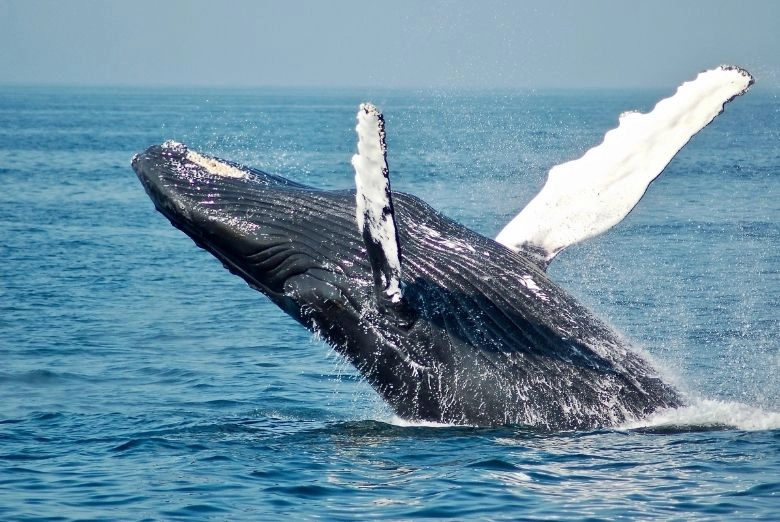 Ilha Grande, Brazil
Midway between Rio De Janeiro and São Paulo lies the beautiful island of Ilha Grande. Relatively untouched, the lush greenery of the forest against the turquoise blue waters is simply stunning.
There are many sunken coves and the many shipwrecks in the waters of Ilha Grande – underwater relics of pirate raids on the island.
At Lagoa Azul (Blue Lagoon), enjoy the diverse marine life where you can hand feed the fish, who certainly aren't shy about coming up to you for a handout!
Marine Life In Ilha Grande
Sea Horses, Turtles, Angelfish, Pufferfish
Mauritius
The beautiful little island of Mauritius has many great snorkel locations, but the best place to snorkel might be Blue Bay Marine Park.
This protected area is home to beautiful bright corals and bustling underwater marine life and the visibility underwater is perfect.
There are also many other locations perfect for snorkeling dotted around the this small island, which is fringed by coral reef all around it. Also take a trip to Ile Aux Cerf, one of the most beautiful island beaches in the world.
Marine Life In Mauritius
Green sea turtles, Hawksbill Turtles, Butterflyfish, Mauritian clownfish, angelfish, sergeant majors, triggerfish, surgeonfish, parrotfish, damselfish
Best snorkeling in the world
Best snorkeling in the worl