Snorkelers, divers & free divers.. they all require the use of a snorkel, but not all snorkels will best suit their needs.
For most, we consider the Cressi Supernova to be the best snorkel overall.
But with so many different types of snorkels on the market.. classic, semi dry, dry, you may find it daunting to select the right one.
But that's ok! That's exactly why we've created this guide for you, and we'll help you narrow down your search of the best snorkel for you!
The BEST Snorkel On The Market For Any Activity
---
The Best Snorkels Reviewed In Detail
The Cressi Supernova has become one of the most popular snorkels on the market in recent years.
It comes absolutely packed full of features, yet despite the fact that the Supernova comes with a ton of features it's also one of the cheapest snorkels on our list.
The Supernova comes in a large variety of colors making it super easy to match to your other snorkel gear or swim clothing, or to simply make it easier to spot you in the water!
The dry valve at the top is extremely effective at keeping water out of the tube when submerged or when you're splashed by a wave, so you can spend more time with your head in the water enjoying yourself!
The quick release snorkel keeper allows the snorkel to be attached easily attached to your mask, and then detaches quickly at the press of a button.
It has a really nice, soft silicone mouthpiece which is comfortable to wear for long durations, and it's cheaply replaceable as well should you need to.
The ergonomic shape of the snorkel contours toward the face – Again, this helps to reduce jaw fatigue and make the snorkel as comfortable to use as possible.
Pros
High spec yet excellent value for money
Comes in a large variety of colors
Mouthpiece is soft and comfortable (& replaceable)
Dry top and purge valve are very effective
Ergonomic shape to help reduce jaw fatigue
Cons
Valve system can stick if sand gets lodged in it
---
Cressi Gringo – Best Classic 'J' Snorkel
The Cressi Gringo has absolutely no frills. Which effectively means there is nothing about this snorkel that can easily break or fail, so it could easily last you for many years.
My dad had this same kind of snorkel a very long time ago, back when the mouthpiece was constructed from a horrible tasting, very hard (and uncomfortable) rubber.
Luckily snorkels are no longer made like that and the mouthpiece is now made from high quality silicone, (doesn't taste weird).. and is really comfortable to use.
The tube is a larger diameter than some others on this list but this allows for great ventilation and easy breathing (and makes it easy to blast water clear too)
Overall the Gringo is very cheap, really low maintenance, lightweight and will last you forever.
The main downside of the snorkel is that the tube is pretty rigid, and that can become uncomfortable for some when snorkeling with it for long durations.
(If you want a classic open top snorkel but with a purge valve and a flexible tube then check out the highly rated Mares Ergo Flex as an alternative)
Pros
Reliable & durable
Versatile – Great for snorkeling, diving, free diving & spearfishing
Cheap no frills snorkel which is ruggedly built
Very low maintenance
Lightweight
Cons
Some may find it too rigid and therefore uncomfortable
---
The Scubapro Nexus is designed to be streamlined, and with this it creates a low amount of drag in the water.
The benefit of a snorkel with a low amount of drag is that they often tend to be a lot more comfortable to use, especially if you're planning on snorkeling for an extended period.
The water won't be dragging the snorkel away from your mouth as much, meaning you're not clinging onto it with your jaw and getting jaw ache from trying to hold onto it.
The Nexus makes a good snorkel for scuba divers as it will fit easily into your BCD pocket, or if you prefer it clipped to your mask then when you are not using it the flexible tube ensures it will drop out the way of your face.
With it being a semi dry snorkel, it has a splash guard at the top of the snorkel to try and prevent splashes of water from entering the snorkel, but it's still very easy to clear water from the Nexus if needed.
It features an angled purge valve which directs bubbles out of your sightline which is a really nice feature, and the ergonomically designed mouthpiece is super comfortable.
The main, and to be honest, only real downside of this snorkel is the price.. but this is a premium, high quality semi-dry snorkel, and good quality tends to come at a price. How bout that 🙂
Pros
Flexible snorkel which is good for snorkeling & scuba diving (will fit in BCD pocket)
Easy to clear any water that enters
Angled purge valve directs bubbles away from eye line
Really comfortable silicone mouthpiece
Low drag and glides through the water easily
---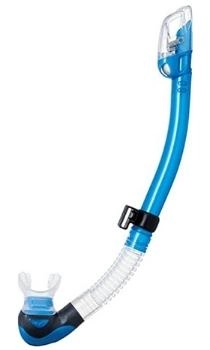 The Hyperdry Elite II is TUSA's flagship snorkel and is designed to be a combination of all their best snorkels features rolled up into one.
It's streamlined and contoured tube sits close to the head to create a low profile and reduce drag so it can easily slice through water making it comfy to wear for snorkeling all day.
The low profile dry top valve is super efficient at keeping water out when submerged or if a wave splashes over you, in fact it probably has the best quality dry top of all the snorkels on our list.
It has a swivel adapter which allows mask and snorkel to rotate together, which makes it really comfortable as there is no load on the mouthpiece (and therefore no pull against your jaw).
Big breathers with large lung capacities may find this snorkel a little too restrictive in airflow due to it's slightly narrower tube (if you think this might be you, I'd recommend the Oceanic Ultra Dry instead as it has a larger tube diameter)
Pros
Best purge valve and dry top of most dry snorkels
Ortho-consciously designed comfortable mouthpiece
Comes in a huge variety of color options
Reduced drag in the water
Cons
Those with big lung capacity may find the air flow of the tube restrictive
---
The Aqua Lung Nautilus is perfect for those with the bare minimal of room in their luggage, and need a snorkel that's ultra compact.
It folds right up to about the size of your palm making this an amazing snorkel for divers who have minimal luggage space available for their dive gear.
The main reason the Aqua Lung Nautilus is a really popular choice among scuba divers, is that many divers prefer not to have their snorkel clipped to their mask at all times, but still want to have one on them in case they need it.
It folds up small enough that you can very easily stow the Nautilus away in the pocket of your BCD or hang it from a D-ring, and you'll barely notice it's there.
And even though it's construction is that of silicone (to make it flexible), it still has enough rigidity to stand up well in the water.
If you are a diver who just needs something to stow on your BCD until needed – This snorkel is perfect. But if your a snorkeler whose luggage allows room for a regular snorkel, there are far superior snorkels on the market.
Pros
Lightweight/Compact – Excellent for travel!
Stores very easily in BCD pocket or hung from D-ring
Contoured tube for a low amount of drag
Quick & easy to unfold and fold
Cons
No splash guard or purge valve
Not the best if wanting something purely for snorkeling
---
Cressi Corsica – Best For Spearfishing & Free Diving
The Corsica is a classic snorkel that was designed specifically for spear fishing and free diving.
It's a flexible classic snorkel, which has been constructed from special polymers which give it very good shape memory. This means it can be folded & bent but will always spring back into its original form.
When diving the mouthpiece tucks under the chin to improve hydrodynamics, as does the contoured snorkel tube which fits snugly to the head in order to reduce drag, and it has a decently sized breathing tube for unobstructed breathing.
Since the Corsica is easily foldable it's also a good choice for scuba divers who prefer to store a snorkel in their BCD pocket.
Overall the Corsica is a nice, no frills snorkel which is reliable and durable. It's main downside is the that mask strap keeper isn't the best and can become detached a little too easily at times.
Pros
Simple no frills design – reliable and durable
Comes in some really cool colorways (including camo)
Can be folded and stored in BCD pocket
Comfortable mouthpiece, made from hypoallergenic silicone
Cons
Mask clip detaches too easily at times
---
This is the youth version of the Supernova Dry. It has exactly all the same features as the adult Supernova, but in a smaller version best suited for children
The valve at the top will prevent water from entering, the top, and the purge valve will easily rid any water that does enter so your child can simply focus on snorkeling.
It's mouthpiece is obviously smaller in size and suited for children, but it still constructed of the same soft silicone, making it comfortable to use for long periods
Pros
Reliable dry top and purge system
Comfortable to use for long durations
Great for ages roughly between 5-9
Flexible snorkel – contours well toward the face
Cons
Valve can stick if sand gets lodged in it
---
How To Choose The Right Snorkel For You
There are many different types of snorkels, and further still, there are different features that can be found in them.
In this section we'll delve into all the different types and features to help give you a better understanding of the snorkel best suiting your needs.
Types Of Snorkels & Features
Traditional Snorkels
A classic snorkel, or "J" snorkel as it's also called is a simple piece of equipment essentially consisting of a breathing tube and a mouthpiece.
The top of the snorkel is completely open allowing water to enter the tube freely, and so it's a snorkel favored among divers who take their snorkel deep beneath the surface for activities such as free diving, spear fishing and scuba diving.
A classic snorkel is also a really popular snorkel among people who just simply prefer a simple design, as it has far less chance of anything failing, and with that, a traditional snorkel is usually ultra durable and can last you for an extremely long time.
And finally, you will find that a classic snorkels simple no frills design comes at a very reasonable price, these being the cheapest snorkels on the market you can buy.
The only factor which discourages some users against this type of snorkel, is having to blast clear water that enters into the tube.
Semi Dry Snorkels
Semi dry snorkels have a splash guard at the top of the snorkel.
The splash guard helps protect the opening, in order to prevent water from entering the snorkel, but it will not prevent water from entering if the snorkel is submerged.
They're a great balance/combination of both a classic snorkel and a dry snorkel and can be popular amongst both snorkelers and scuba divers.
This type of snorkel will often come with a flexible tube and a purge valve too, but these added features do make them a bit more expensive than traditional snorkels.
Dry Top Snorkel
A dry snorkel features a special valve at the top of the snorkel which closes when it is submerged, or when a wave splashes over it.
As you dive underwater the valve shuts and prevents any water from entering, and then when you resurface the valve opens again and you can continue swimming without having to clear any water from the tube.
Dry snorkels are perfect for all levels and abilities, and provide easy uninterrupted snorkeling as you needn't have to worry about having to blast clear water from it.
This type of snorkel is heavier than a classic snorkel, and the added air within it will some create buoyancy and drag underwater, which makes them excellent for snorkeling, but not so popular among free divers and scuba divers
Of course, additional features like these do drive up the price, therefore these can often be the most pricey.
Flexible Snorkels
A flexible snorkel is popular among both scuba divers and snorkelers alike.
Their flexibility helps them be more hydrodynamic, and therefore glide through the water a little easier, and they also contour toward your face very well which results in them being very comfortable to wear for long periods.
Also since they are flexible, they can usually be folded and stowed away in your BCD, making them a versatile option to have in your diving gear.
Full Face Snorkel
Full face snorkel masks have become extremely popular in recent years. But they have also managed to catch many headlines, which have not always positive.
The reason they have become so popular is because they support breathing through your nose and your mouth, as opposed to a snorkel which only allows breathing through the mouth.
Some people prefer this as it makes for easy breathing which tends to feel more natural. Also others may struggle with jaw ache, or they can have a bad gag reflex when using a regular snorkel.
However a full face mask does not go well with wanting to dive deep underwater (due to their added buoyancy), and so they are best for surface snorkeling only, at leisurely pace.
If you are interested in a full face mask and want to learn more about them and their pros and cons, then check out our article reviewing the best full face masks on the market.
Purge Valve
A purge valve is a popular feature often sought out in snorkels.
Located at the bottom of your snorkel, the purge chamber collects any water that may have entered your snorkel, and a simple exhale will open up the valve system and release that water back out again.
This one way purge valve makes clearing your snorkel much more seamless and convenient than having to blow water out of the top of the snorkel, and it greatly reduces the chance of gulping down sea water!
Having a purge valve can jack up the price of your snorkel though, and some snorkelers seek to avoid snorkels with purge valves as it is not uncommon for them to eventually fail or leak over time.
Personally, I prefer a snorkel with a purge valve as it makes snorkeling much more enjoyable when you don't have to worry about clearing your snorkel – Just ensure you clean and maintain your snorkel well and your purge should last just fine over time.
Our Verdict
We covered a lot of different snorkels in our list but hopefully we've helped you choose the snorkel best suited to your needs!
But for those in general, the Cressi Supernova stands above most due to its very high quality, feature packed design, and it comes in at a really fantastic price point.
Now check out our Snorkel Gear page for even more helpful snorkel equipments guides, to help you have the most fun & enjoyment on your next trip!