This is a review of the best snorkel masks in 2022
Arguably one of the most important pieces of snorkel gear is the mask. But what features and materials should you look for?
What may be the perfect mask for me may be terrible for you, so picking a snorkel mask that best fits your needs is extremely important.
In this article we'll show you how to choose the best snorkel mask to suit YOU – So you can enjoy hours of snorkelling fun!
The Best Snorkel Mask [2022]
---
The Best Snorkel Masks Reviewed
Cressi F1 – Best Budget Snorkel Mask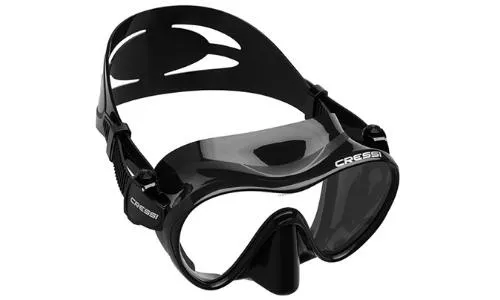 Features/Specs
Single Lens/Frameless
Clear or opaque mask options
The Cressi F1 is one of the best snorkel masks on a budget you can buy.
The F1 is half the cost of most other snorkel masks on the market but it is still a fantastic quality, very well made mask so it really does represent excellent value for money.
The primary differences between the F1 and a more premium mask that is double the cost (or more) will be in the quality of the materials.
A more premium mask will have a better lens quality, a better grade of silicone, and it will be more durable but for the cost the F1 really is excellent and I think you would struggle to find one better at this price.
For the casual vacation snorkeler who doesn't want to break the bank on snorkel gear that will be used infrequently – I would look to the Cressi F1 paired with the Cressi Supernova Dry Snorkel.
The silicone skirt on the F1 is very soft and smooth, it has a double feathered edge skirt and it creates a good seal around the face that is comfortable for hours of use.
The F1 also comes in a huge variety of colors and is available in both opaque or clear skirt options depending on your preference – Great if you like to stand out or want to match it to your gear/clothing
Pros
Very comfortable soft silicone skirt
Good quality mask at a price point that's tough to beat
Available in a huge variety of colors
Lightweight and compact
Good field of vision
cons
Can be really prone to fogging if the film isn't removed properly prior to first use.
---
Hollis M1– Best For Snorkeling & Scuba Diving
Features
Frameless/Single lens
Saint-Gobain Diamant tempered glass
This is the mask that I personally use and let me tell you.. this. mask. is. awesome! Here's why..
When you buy a premium mask like the Hollis M1, there will be noticeable differences between this mask, and a more budget friendly mask like the Cressi F1 for example.
The silicone skirt is of a much higher quality. It's made of a much higher grade silicone that is a lot buttery soft which makes it very comfortable, and it's also more durable so it's going to last a lot longer.
There's a big difference in lens quality as well. The lens on the Hollis M1 is made from Saint Gobain Diamant tempered glass which has a reduced iron content compared to other budget snorkel masks.
What this means is that the mask has a reduced amount of green tint, and as a result has a far superior lens clarity and higher light transmittance.
The field of vision on the Hollis M1 is very good indeed – I have used other masks that are marketed as having a really 'wide field of vision', but I've found the Hollis to be superior.
For scuba divers who are looking for a snorkel mask that also doubles as one of the best scuba diving masks as well then this is a really good choice to go for. Because it's a frameless mask, it folds down nice and compact for travel, or for stowing away as a spare in your BCD pocket.
Pros
Very wide field of vision
Extremely soft and comfortable silicone skirt and mask straps
The mask lens is ultra clear
Perfect as a snorkeling mask and scuba mask
Very lightweight and compact
cons
A little pricey to be used only for snorkeling, but then this is a very high end mask (you get what you pay for!)
---
Features
Patented 3D Wide split strap
180° rotational buckle system
The TUSA Freedom HD is one of the best snorkeling masks for people with wider faces, and it's a very forgiving mask for men with facial hair.
The mask skirt is slightly wider than some especially under the nose area so men with facial hair often find that this mask creates a much better seal for them and has less leakage than other masks.
As well as that the TUSA HD has an ultra wide field of vision throughout every angle so no matter which way you're looking you're really getting as good a field of vision as you could get.
The straps on the Freedom HD are contoured to the shape of your head, to provide a comfortable fit, and the mask buckles offer a ton of micro adjustment so that you can get a really optimal and comfortable fit with this mask.
There aren't really many downsides to this mask – As long as it fits you correctly then you should have a great experience with it.
Probably the only thing that I would say is that the Freedom HD isn't quite as low volume as described, so if you're diving with it, it may take that little extra bit of effort to be able to clear.
[Another mask that's often mentioned as being great for men with facial hair is the Atomic Venom Frameless, but it's also one of the most expensive masks on the market]
Pros
180 degree buckle system allows users to get the most comfortable/optimum fit
Available in a large variety of colors
Huge field of vision
Good if you have facial hair or a larger face
cons
It isn't quite as low volume as advertised
---
Features
Purge valve under the nose
Multiple window snorkel mask
The XS Scuba Fusion mask is one of the best snorkel masks with a purge valve – It's also pretty fairly priced for this type of snorkel mask too.
This is a multiple window snorkel mask so it offers very good peripheral vision in comparison to other snorkel masks, but that does mean that this mask has a higher internal air volume than others, and is a little bit bigger/bulkier than some.
The purge valve works really well and will effortlessly purge any water that gets into the mask back out of it again simply by gently exhaling through the nose.
There tend to be two main issues with masks that have a purge valve. Firstly, if the mask doesn't fit you correctly then the purge valve can press up against the bottom of your nose and be very uncomfortable.
Secondly, these masks may be less durable over time than a regular snorkel mask as the purge valve itself presents an additional failure point where something could go wrong/break/leak.
But to the people that enjoy the effortless clearing of a mask with a purge function, the XS Scuba Fusion is a really good option.
The Scubapro Crystal VU snorkel mask is another popular snorkel mask with a purge valve – However it's double the price of this one.
Pros
Purge valve makes for really easy clearing
Offers a really wide peripheral vision
Great price for a snorkel mask with purge valve
cons
If the fit isn't right for you the purge valve will press against your nose
Slightly bulkier than other masks
---
Features
Anti reflective (ARC) mask coating
Allows almost 100% transmission of light
Optional purge valve
The Rayblocker Eagleye mask spent 6 years in development so as you can imagine it's very good at what it was designed for – To provide color correction and anti UV glare.
The anti-reflective coating (ARC) on this mask allows almost 100% transmission of light, so what that means is it gives you excellent clarity and a more 'true view' of colors underwater.
So instead of simply seeing green and blue as you descend deep underwater, this mask will instill some of that color that gets lost, (red is usually the first to go) so you can see things as they were meant to be seen!
The ARC also helps to block harmful UV light and glare so is great on those extra sunny tropical dives where otherwise the light may reflect in your eyes causing a lot of discomfort.
Snorkel masks with anti-reflective coating can show up scratches far more easily than a normal snorkel mask, and the scratches can be quite distracting.
It's therefore important to care for this type of mask a little more than a regular mask in order to try and prevent scratches and marks from happening.
Pros
Allows almost 100% transmission of light
Lenses provide Anti-Glare / UV protection
Reduction in the time it takes your eyes to adjust when resurfacing
Purge and non purge valve models available.
cons
ARC coating if scratched is easily noticeable
---
Cressi Focus – Best Prescription Snorkel Mask
Features
Lens Range: -1.0 to -7.0-Diopter in 0.5 increments
Low volume mask
If you wear glasses then you may want to consider a snorkel mask that accepts prescription lenses. (Especially if you don't like or can't wear contacts lenses).
One of the best snorkel masks that allows this is the Cressi Focus mask, which has a wide range of corrective lenses available (0.5 increments all the way from -1.0 to -7.0).
The lenses can be replaced easily by the user so as your prescription changes you can swap out the lenses for your new prescription. Each lens is sold separately as well making it convenient if you have a different prescription in each eye.
The Focus mask has a minimal distance between the lens and the eyes to enhance field of view as much as possible – It does have a decent field of vision but it won't quite match that of a single lens/frameless mask (this is the trade off when purchasing a twin lens mask)
I'm a glasses wearer myself (although I prefer to wear my contact lenses). BUT I am considered trying out a prescription snorkel mask, and this is the one I will personally go for.
Pros
User replaceable corrective lenses
Will accommodate different prescription for each eye
Available in a range of colors
Competitively priced
Low volume
cons
Really can't find anything negative to say!
---
Cressi F1 Mini – Best Snorkel Mask For Kids
Features
Same as the Cressi F1 adult mask
Single lens/Frameless mask
The Cressi F1 mini is one of the top snorkel masks for kids on the market.
Some kids snorkels masks can be very basic in design and made from inferior quality materials but the Cressi F1 mini is made from the same quality materials as the adult version, so you know you're getting a good mask.
This mini version of the very popular adult F1 mask is exactly the same. It's made from the same materials, has all of the same features, it is just simply smaller.
The F1 mini as well as being a snorkel mask for kids is also heavily used among adults who have narrower faces.
So if you've struggled to find masks that fit you in the past for being too big then you may finally have success with the F1.
Pros
Very comfortable soft silicone skirt
Good quality mask at a price point that's tough to beat
Also would suit people with narrower faces
Lightweight and compact
Good field of vision
cons
Can be really prone to fogging if the film isn't removed properly prior to first use.
---
What To Consider When Buying A Snorkel Mask
We want to give you the knowledge so that you can purchase the perfect snorkel mask for you. A mask that will be comfortable to wear for hours on end and that is built to last!
Here are some key points that you should consider..
Comfort & Fit
There's a wide range of options available when it comes to buying a snorkel mask – But having a mask that fits properly and is made of high quality materials is non negotiable.
You could buy the most expensive mask on the market, one that everybody raves about – but that mask may not fit you correctly and may not be suitable for your needs and that will ultimately result in you having a disappointing snorkeling experience.
Never mind the bells and whistles and what the mask looks like – The absolute number one thing is that the mask fits you correctly. Having a fancy mask means nothing if the fit isn't correct.
An ill fitting mask can cause discomfort, water leakage and fogging.
Safety
The masks lens must be made of tempered glass – Do not buy a mask that doesn't have a lens made of this (such as plastic).
Often times the cheap masks that can be found in beach front stores or even Walmart are made from cheap and inferior materials like rubber and plastic.
Tempered glass is a special type of safety glass that has been treated to make it stronger. It is also very resistant to scratches and breakage and has excellent clarity.
Basic Snorkel Mask Features
Mask Skirt
The 'skirt' goes around the mask and is the part that seals against your face.
Most masks are made from hypoallergenic silicone which is both durable and very comfortable to wear.
You should avoid masks where the skirt is made of rubber or even plastic.
Rubber and plastic are not durable materials and they can stretch and crack pretty easily, they are also susceptible to warping and are uncomfortable to wear for long periods.
Mask Lenses

Single Lens Snorkel Mask
A single lens snorkel mask features a single pane of glass.
The biggest benefit with this style of mask is that it and can give a slightly better field of view than other styles since it doesn't have any frame down the centre of it.
If you want to have a mask with prescription lenses – This probably won't be the mask for you as the best you can use would be the stick on kind (which aren't very good!).
Twin Lens Mask
Double lens masks are the best snorkel masks for those wishing to use corrective lenses.
So if you want to fit genuine corrective lenses within your mask (not the stick on kind!) then you will need to use a twin lens mask. Plus if your prescription ever changes, it's usually easy to change the lenses yourself.
This kind of mask can be slightly bulkier and heavier than a single lens mask, and the frame of the mask down the middle may reduce your field of vision.
Another benefit of this style is mask is that they have a very low volume internally, and as a result are very easy to clear if flooded.
Multiple Window Mask
Multiple lens masks aren't as popular as the two above styles.
A multi lens mask has extra pains at the side of the mask. These increase light transmittance into the mask, and they also increase your peripheral vision.
These masks tend to have an high volume of air inside the mask though, and they are bulkier and heavier than the other mask styles.
Some users of this mask complain that the side windows can distort vision underwater though, which is due to the light refraction between the side windows.
Framed VS Frameless Snorkel Masks
A frameless snorkel mask is constructed so that the lens is moulded directly to the silicone mask skirt.
The subtraction of a frame means that a frameless mask will sit closer to the face, and this will give you a wider field of vision, and generally have a slightly better peripheral vision than a framed mask.
Frameless masks are usually more lightweight and compact than a framed mask, making them a slightly more travel friendly option, they're also a popular option for scuba diving.
A framed mask has a rigid frame which attaches to the mask skirt.
You can find single lens, twin lens, or multiple lens mask options are available with a framed mask, (unlike a frameless mask which may only accommodated a single lens).
A framed mask is a very sturdily constructed mask that offers various different design options, but they're often bigger, bulkier and a bit heavier.
Optional Features
There are additional features that can be found in some snorkel masks that are optional/non-essential.
Whether you choose to purchase a mask with additional features will depend on what your intended use for the mask is, plus your budget as added bells and whistles tends to mean added expense!
Purge Valve
Some masks (such as the XS Scuba Fusion and the Scubapro Crystal Vu), have a purge valve within the nose pocket.
The purge valve allows you to expel any water that may have entered the mask simply by gently exhaling through your nose.
The addition of this feature within the mask makes clearing the water quick and simple – and allows you to snorkel uninterrupted, as you won't have to resurface and remove your mask to get rid of any water.
Of course with the addition of additional mechanical features like this, it does also increase the likelihood of something being able to go wrong with your mask.
Just like a dry top snorkel – If the purge valve becomes blocked (by sand for example), then this can cause leakage.
Mirrored Lenses
Some masks come with a special anti-reflective coating on the lens. A mirrored lens will reflect certain light wavelengths to reduce glare, hide the users eyes and to improve clarity and color visibility.
A silver mirrored lens will typically reduce the diffuse reflection in shallow water and prevent glare, and a gold mirrored lens will reduce blue light which helps to increase contrast and visibility.
How To Check If Your Snorkel Mask Fits Properly
It's actually quite easy to tell if your mask fits you correctly.
Press the snorkel mask against your face and then gently inhale through your nose.
Now, take your hands away and notice what happens? You'll want to pay attention to the following:
Does the mask stay against your face, or is it slipping off? If the mask stays against your face easily, and no air is seeping in then you have a good fit.
If the mask falls off then this is not the mask for you unfortunately! (If the mask doesn't fit correctly & you can feel air seeping in then that means water will too).
Take note of how the mask feels around your nose and temples. Is the skirt digging into your face? If it feels uncomfortable over your nose and face now imagine how it could feel after an hour or two of snorkelling!
Full Face Snorkel Masks
Full face snorkel masks are becoming increasingly popular and many snorkelers seem to be gravitating towards them now.
There are many questions surrounding the safety of this mask though. I've written about the dangers of full mask masks here.
My recommendation would always be to go for a traditional snorkel mask over a full face mask, unless for whatever reason you are simply unable to use a regular snorkel and mask.
A Full face snorkel mask if you do decide to go for one, should only be used for light activity – Don't use one if you are going to be doing any strenuous swimming.
And equally as important is that you buy a full face mask from a reputable brand! Tribord, Mares and Ocean Reef make quality masks that have gone through rigorous testing.
The cheap full face masks that you can buy on Amazon have not gone through such testing, and are the type you should steer clear from.
Conclusion
Your snorkel mask will be one of the most important pieces of gear you invest in.
It's important that you select your mask based on what fits you and which suits your personal needs.
I hope that this guide has helped you to select a snorkel mask according to your requirements. Get this right, and you'll have the perfect view of the underwater world!
Need more than just a mask? Check out our other snorkeling gear recommendations here!
Best snorkel goggles (hide)
Swimming Goggles With nose cover
Snorkeling Goggles With nose cover