Short on time? We consider the best scuba regulator to be the Scubapro MK25 EVO/A700
Your scuba regulator is your best friend and your life line – it's your link (literally) to the air you breathe.
As probably the most important piece of scuba gear you'll own, it's important to buy the best scuba regulator to fit your needs.
It's your regulators job to take the highly pressurised air from your scuba tank and deliver it to you at an ambient air pressure that is easily breathable. There are many different types out there and it's important to pick the reg best suited to the type of diving you intend on doing.
Keep reading to find out what the best scuba diving regulators are, and to help you select the right one for you our comprehensive buyers guide will break down all the jargon and technical terms. Enjoy!
The BEST Scuba Regulators – Reviewed
| | |
| --- | --- |
| Valve | Yoke or DIN |
| First Stage | Balanced Piston |
| LP Ports | 5 |
| HP Ports | 2 |
| Water Temp | Cold/Temparate/Warm |
| Nitrox Mix | Up To 40% |
Scubapros flagship regulator the MK25/A700 is widely regarded in the industry as one of, or the best dive regulator.
Fans of the brand already know this is probably the best scubapro regulator you can buy. This popular regulator is one of the most highly rated regs in terms of performance and build quality on the market.
Its swivelling first stage allows easy configuration to the users requirement so you can find the ideal setup and comfort to fit you, and it also allows the use of wireless air integration
A great all rounder due to its exceptional performance in all conditions, functioning just as well in cold water as it does in warm water.
Pros
Extremely rugged & built to last
Effortless airflow unaffected by depth, tank pressure, or breathing rate
Excellent all rounder – Performing well in all conditions
The diver adjustable inhalation knob is easy to use
Comfortable mouthpiece
Cons
Pricey, but highly worth it if you have the funds
---
| | |
| --- | --- |
| Valve | Yoke or DIN |
| First Stage | Balanced Diaphragm |
| LP Ports | 4 |
| HP Ports | 2 |
| Water Temp | Cold/Temparate/Warm |
| Nitrox Mix | Up To 40% |
With the Oceanic Delta 5 you get one of the best regulators for experienced divers, that can handle all temperatures. In fact this is probably one of the best cold water regulators on a budget out there.
The Delta 5 would be a great investment for any diver as it's going to be able to carry you right through from beginner diver to experienced, and from warm through to cold water conditions. Saving you the hassle (and money) of having to upgrade regs along the way as you become more advanced.
And with a lifetime warranty and free spare parts for life, this reg really will be able to last you for many years to come.
The Dynamic Adjustment Technology with this reg assures smooth and easy breathing no matter the depth, and whilst this reg is a little heavier than others on our list, the super comfortable orthodontic mouthpiece makes it comfortable to use for extended periods.
Pros
Good for cold water use
Consistently good airflow at any depth
Lifetime warranty & free spare parts for life
Comfortable mouthpiece
Cons
None Really! It's a great reg.
---
| | |
| --- | --- |
| Valve | Yoke |
| First Stage | Unbalanced Piston |
| LP Ports | 4 |
| HP Ports | 1 |
| Water Temp | Warm |
| Nitrox Mix | Up To 40% |
For newbie divers the Cressi XS2/AC2 is budget friendly, breathes easy and is lightweight enough for travel – Definitely one of the best scuba regulators for beginners.
Add into the mix that it's easy to maintain and that servicing, maintenance and repairs costs tend to be pretty low and you've got the ideal regulator for any new recreational diver.
For the price point, the Cressi XS2/AC2 is very dependable and reliable. This robust and sturdy setup doesn't have many fancy bells and whistles, but that's what allows it to be so reliable and dependable dive after dive.
Pros
Lightweight & compact making it great for travel
Adjustable venturi switch to manage free flow
Really durable and sturdy. Maintain it well and it will last for years to come
Simple to use, budget friendly & the best scuba regulator for beginners
Cons
Not environmentally sealed
Unbalanced
---
| | |
| --- | --- |
| Valve | Yoke or DIN |
| First Stage | Balanced Piston |
| LP Ports | 5 |
| HP Ports | 2 |
| Water Temp | Cold/Temparate/Warm |
| Nitrox Mix | Up To 40% |
This setup matches the Scubapros popular flagship MK25 first stage with the S620Ti second stage.
The S620 is the evolution of the extremely popular S600, making the already industry favorite S600 smaller, more lightweight and with better corrosion resistance.
Suitable in both cold and warm water, the MK25/S620Ti regulator is a great all rounder for those from beginner to advanced, and a very popular option due to its reliability and high performance in all conditions.
Pros
Suits divers of all levels, and delivers high performance in warm and cold water conditions
Swivel turret allows easy configuration
Cheaper than the A700, but still delivers excellent quality & performance
Lightweight
---
| | |
| --- | --- |
| Valve | DIN |
| First Stage | Balanced Diaphragm |
| LP Ports | 5 |
| HP Ports | 2 |
| Water Temp | Cold/Temparate/Warm |
| Nitrox Mix | Up To 40% |
This flagship regulator from Hollis, the 200LX DCX is designed for recreational and technical divers alike, and certainly is one of the best tech diving regulators.
Designed for even extreme environments, the Hollis easily outperforms most regulators on the market with it's smooth delivery of airflow at any depth.
Impressively durable to begin with, Hollis also offer a lifetime warranty and free spare parts for life. As with the Oceanic, purchasing the Hollis 200LX is an investment which will last for years and could easily accompany you from beginner to advanced technical diver.
To further expand on its versatility this regulator can be easily converted from right handed to a left handed hose configuration quickly and easily (within minutes), with no need for special tools or calibration.
The ports are well angled to allow easy configuration per your desire, and the ergonomic exhaust is positioned to direct bubbles away from the face and away from your field of view.
Pros
High end regulator, suitable for any condition
Can be converted from right handed to left handed hose configuration in minutes
Lifetime warranty and free parts for life
Exhaust bubbles are channeled away from the face
Sidemount compatible
Cons
None! It's worth the investment
---
| | |
| --- | --- |
| Valve | Yoke |
| First Stage | Unbalanced Piston |
| LP Ports | 4 |
| HP Ports | 2 |
| Water Temp | Warm |
| Nitrox Mix | Up To 40% |
The Oceanic Alpha 10 is one of the best scuba regulators on a budget.
This regulator would perfectly suit recreational divers, especially those looking for a reliable regulator on a budget and those who like to travel, since the Oceanic Alpha 10 is fairly lightweight.
The angled ports will allow you to set up your hoses optimally and comfortably, and the Oceanic adjustment dive/pre-dive venturi switch provides control preventing unwanted free flow.
Oceanic also offers a lifetime warranty on their regulators and free spare parts for life, so you can be confident this regulator can be used for many years of adventures!
Pros
Angled ports for ideal hose routing
Super affordable/good if you're on a budget
Lifetime Warranty & Free Spare Parts
Lightweight
---
| | |
| --- | --- |
| Valve | Yoke |
| First Stage | Unbalanced Piston |
| LP Ports | 4 |
| HP Ports | 1 |
| Water Temp | Temperate/Warm |
| Nitrox Mix | Up To 40% |
A reliable and dependable setup for any recreational diver that won't break the bank. The MK2/R195 is equipped with Scubapros Extended Thermal Insulating System (XTIS), designed to insulate from the environment and dramatically increase freezing resistance.
Compact and lightweight, it's light enough for any globetrotting diver to have in their travel bag and a really great value and affordable mid range regulator that is well known for being rugged, durable and easy to maintain.
Many divers often choose to keep the MK2/R195 as a backup regulator after upgrading down the line due to it's reliability and durability.
Pros
Durable and easy to maintain
Lightweight & compact
A great backup reg if you upgrade in the future
Large piston ensures better breathing performance
---
| | |
| --- | --- |
| Valve | Yoke or DIN |
| First Stage | Balanced Diaphragm |
| LP Ports | 4 |
| HP Ports | 2 |
| Water Temp | Cold/Temparate/Warm |
| Nitrox Mix | Up To 40% |
The Cressi MC9-SC is a very versatile, great all rounder for divers who venture into both warm and cold waters.
It is rated to below 50F/10C thanks to its second stage built from thermoconductive thermoplastic neopolymer! What does that mean? It means the MC9 transfers heat like metal, all whilst preserving the properties of its thermoplastic material.
Being built from thermoplastic as opposed to metal helps to also reduce the weight of the regulator, helping to reduce jaw fatigue and to also make this a great travel regulator.
Pros
Rated for cold water use, making it very versatile
Lightweight & compact – Great for travel use
Two HP ports allow for wireless dive computer air Integration
Available as DIN or Yoke
Adjustable venturi switch to manage free flows
Cons
Mouthpiece is a little small
---
| | |
| --- | --- |
| Valve | Yoke |
| First Stage | Unbalanced Piston |
| LP Ports | 4 |
| HP Ports | 1 |
| Water Temp | Warm |
| Nitrox Mix | Up To 40% |
The Aqua Lung Calypso is a good entry level regulator, popular among beginner recreational divers and dive centres.
The light weight, compactness and reliability of this regulator, (which is at a very budget friendly price point), are what make the Calypso such a popular choice.
It's design is simple and it's made up from a reduced amount of components but that is what makes the Calypso easy to clean and maintain, and allows it to be so durable.
Pros
Easy to clean & maintain
Reliable and durable
Free spare parts for life
Lightweight and great for travel use
Cons
Unbalanced
Limited to warm water use
---
| | |
| --- | --- |
| Valve | Yoke or DIN |
| First Stage | Balanced Piston |
| LP Ports | 7 |
| HP Ports | 2 |
| Water Temp | Cold/Temparate/Warm |
| Nitrox Mix | Up To 40% |
It may be the cheapest of the Atomic line but the Z2 feels like a high-end reg in terms of breathing performance all whilst sitting at a mid-range price point.
The Z2 is built to be durable and strong. The Zirconium plating (what the 'Z' stands for), is designed for increased corrosion resistance, and you will also get a limited lifetime warranty (metal parts of this regulator are warranted against corrosion for life).
What you will find with the Z2, is that in terms of breathing performance it is comparable to Atomics much more high end regulators like the B2 and T3 – The main differences being the inclusion of a swivel and more corrosion resistant materials being used on their higher priced regs.
Pros
Limited lifetime warranty
Durable and corrosion resistant
A much more high-end reg than the mid-range price suggests
Fit for cold water diving
Cons
Swivel only included with the Z3 (at a higher price)
---
What Is A Scuba Diving Regulator
A scuba diving regulator is your most important piece of dive gear. It is literally the connection between you and your life source when underwater – your air.
Your scuba regulator regulates the flow and the pressure of air – In order for you to be able to carry as much air as possible in your tank, the air needs to be pressurised.
Your scuba regulator needs to be able to not only deliver the air from your tank to you to breathe, but it must also convert the highly pressurised air that's in your tank, to a much more ambient air pressure that's easily breathable.
How A Scuba Regulator Works
First Stage
The first stage of your scuba regulator attaches to your air tanks valve.
It's job is to reduce the highly pressured air that's in your tank to a lower more intermediate air pressure, before delivery to the second stage.
There are two different types of tank valve connector types – Yoke (also called INT and A-Clamp), or DIN. Both of which we'll discuss in further detail in our buyers guide below.
Second Stage
The second stage is your mouthpiece. The second stage of your regulator receives the intermediate air pressure delivered by the first stage, and further reduces that pressure to an ambient air pressure that you are able to breathe.
It is also referred to as the demand valve, as it supplies you with air when you inhale, (as you demand it), at a pressure that you're able to breathe comfortably.
Octopus (Alternate Second Stage)
Your Octopus is an alternate second stage, and it functions the same as your primary second stage.
Having an alternate second stage is an extra safety precaution. It's there for use should you encounter an issue with your primary second stage and need to switch to an alternate, or it can also be used by your dive buddy should they encounter any issues.
Your octopus is usually coloured yellow so that it can be easily located if you need it.
Low Pressure Hose
Your low pressure hose runs from the first stage of your regulator to your BCD, allowing you to inflate your BCD with air from your tank so that you can control your buoyancy in the water.
SPG/Air Integrated Dive Computer
Your SPG (submersible pressure gauge) connects to a high pressure port on your first stage and displays how much air pressure is left in your air tank.
You can also use an air integrated dive computer either in conjunction with an SPG (so you would need more than one high pressure port on your first stage), or as an alternative to using an SPG.
An air integrated dive computer reads how much air pressure is in your tank, and wirelessly transmits the information to your dive computer (usually mounted on the wrist).
Check out our guide here, to the best air integrated dive computers.
How To Choose The Best Scuba Regulator – Buying Guide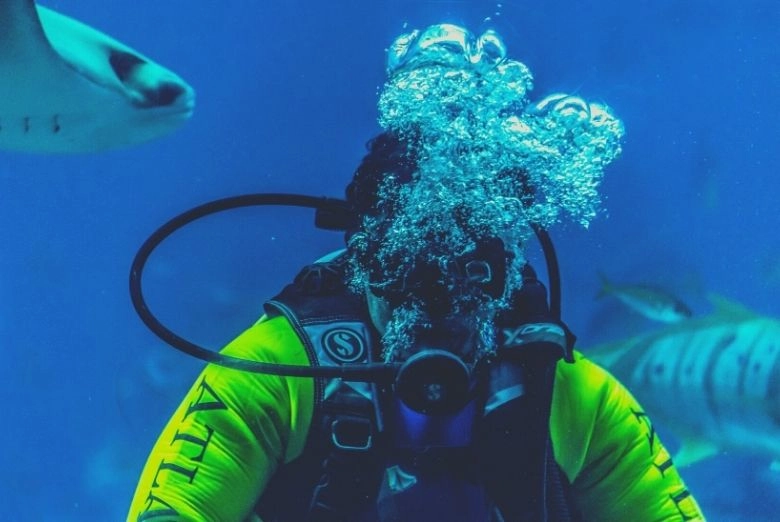 What To Consider When Buying A Scuba Regulator
Whether you're in the market to purchase your first regulator, or you're looking to buy a replacement/upgrade to your existing reg, there are multiple options that you will need to consider.
These considerations will affect what will make the best scuba regulator for you and your own personal needs. Let's discuss the factors that you should consider:
Warm vs Cold Water Diving
If your plans don't extend past diving in warm tropical waters, then absolutely any regulator will be fine for you.
If however you intend on diving colder waters, you will need a regulator that is fit for cold water use. For this, the regulator you will need has to be environmentally sealed.
An environmentally sealed scuba regulator prevents the components within the first stage from freezing in cold temperatures, and the seal also keeps sediment, salt and other debris from entering.
DIN Or Yoke (A-Clamp)
Your regulator first stage is what connects to your scuba tanks valve, and that connection can either be a 'DIN' style fitting, or 'Yoke' (also called A-Clamp or Int).
Yoke style connectors tend to be the more popular style on the tanks you rent whilst on vacation, and are also the more popular style used in North America. For these reasons many divers, especially those who love to travel tend to go for yoke over DIN.
DIN style valves are gaining in popularity however, and many consider this style of valve to offer a "safer" connection of the two.
Ultimately, if you're a recreational diver that dives where the tanks are mainly Yoke, it would be best to go with a Yoke regulator. This is the most popular type of tank valve in North America and most tropical diving locations
Conversely, if DIN is the more popular style of tank connection being used, you'd probably want to go with a DIN regulator. DIN tends to be the more favored option in Europe, and for technical divers.
The choice of yoke or DIN is mainly a personal choice for most divers as the price point for them is roughly the same.
Yoke Regulator
A Yoke regulator fits over the tank valve and is then tightened into place. It's the most commonly used type of connector in many places, including North America and the Carribean.
Yoke regulators are therefore often a preferred choice amongst many recreational divers so they don't have to worry about using a converter
Despite the argument that DIN valves may offer a safer connection style than a yoke, this shouldn't put you off a yoke regulator – If you plan on doing most of your diving in a location that leans towards yoke valves as standard, then yoke may be your preferred choice.
DIN Regulator
A DIN style connector screws directly into the scuba tank's valve giving you a nice tight seal. A DIN regulator also has the added benefit of being able to withstand greater pressure (up to 300 bar, in comparison to yoke – 232 bar).
DIN regulators are generally seen as being more secure than a yoke regulator and are quickly increasing in popularity, they are more commonly used in Europe.
They are the standard go to choice for technical divers for the ability to use a higher pressure tank, and the added benefit of a higher protection against the valve knocking against something, but are becoming much more commonly used among recreational divers.
DIN regulators also have the advantage of being lighter, and having a lower profile than yoke regulators.
Can You Use A Yoke Regulator On A DIN Tank & Vice Versa
Whichever style you choose to go for, you will not necessarily be locked into this one style of fitting.
Both DIN and yoke regulators can be converted so that they may be used with their other valve counterpart if needed.
Piston Or Diaphragm
Your first stage can either be a piston or diaphragm design and each comes with its own pros and cons.
A piston style first stage is a simple design making it easier to service and maintain as they have few moving parts, the associated cost of maintaining it is therefore also kept low.
Piston first stages are usually more expensive than diaphragm but they have a better air flow rate and deliver better performance allowing for easier breathing.
Despite the more moving parts, a regulator with a diaphragm first stage is actually cheaper to manufacture. It's also considered on the lower end of the scale performance wise in comparison to a piston regulator and therefore tends to be cheaper than a piston regulator.
Diaphragm regulators are quite popular for cold water use however as they are sealed well and therefore less likely to freeze under cold water conditions.
Balanced Or Unbalanced
An unbalanced regulator is the simpler and cheaper of the two designs. The difference between the two designs will be noticeable when diving at depth, and when your tanks air pressure begins to get low.
A balanced reg will breathe the same under all conditions – The whether you're diving at depth, or when your air pressure if beginning to get low. It will deliver air to you in the exact same way as if you were diving much more favourable conditions.
This noticeable performance improvement over an unbalanced reg means that they are of course more expensive.
An unbalanced regulator when diving at greater depth, or when air tank pressure lowers can provide more resistance when breathing.
A unbalanced regulator will provide fine performance for recreational divers, but if you plan on diving deeper than 40 meters, or you just simply want to go for a higher performing reg – Then a balanced regulator is the one for you.
Weight
Dive travel addicts will probably want a regulator that isn't going to take up too much of their luggage weight and allowance.
Some regulators are more compact and lighter than others (specifically those that are constructed from lighter materials like carbon fibre), but the difference here isn't going to be huge – You'll save more space and weight in your scuba bag when it comes to your other equipment.
Number Of Ports
Recreational divers will need a regulator with a minimum of 3 low pressure ports (although most tend to come with 4 low pressure ports).
One port will be for your primary first stage, one for your secondary stage (Octopus), and finally one for the inflator hose. If you plan on diving in cold water using a drysuit, then a low pressure port is needed to connect to your drysuit.
At least one high pressure port is needed which is for your SPG (submersible pressure gauge).
Conclusion
As far as the best scuba regulator? For us it's the Scubapro MK25 EVO/A700.
It's a higher startup cost then some other regs on our list yes, but you won't need to upgrade as you become more advanced and the servicing and maintenance costs will be minimal.
The Scubapro will be your reliable companion in warm and cold waters, for both recreational and tech diving and the performance of this reg is simply outstanding – which when it comes to something as important as delivering air to you, is exactly what you need!
Interested in our other scuba gear recommendations? Check out the below!