A scuba mask is often one of the first pieces of equipment divers look to purchase when investing in their own gear.
Having a quality scuba mask that you know you can trust and rely upon will make all the difference when you're deep underwater.
Selecting the best scuba mask for your own individual needs is essential when it comes to having a great dive trip, but everyones needs, (and face shapes!) are different.
So with that in mind, here's our list of the best scuba diving masks in each category.
The Best Scuba Diving Masks [2022]
---
The Best Scuba Diving Masks Reviewed
Cressi F1 – Best Budget Dive Mask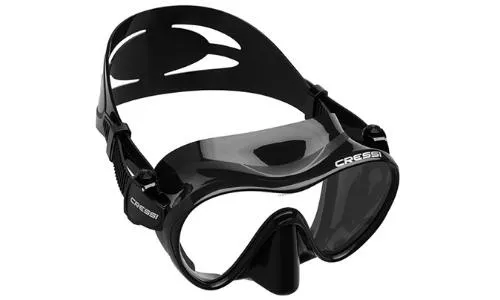 Specs
Style: Single lens/Frameless
Strap Style: Single/Wide strap
Volume: Low
You can get some superb masks whilst shopping on a budget, and probably none better than the Cressi F1.
The mask sits nice and close to the face, which will give you a really nice unobstructed view, and with it being a single lens mask it also a very wide field of vision.
This frameless design also gives the mask a fairly low profile which makes it easy to clear, and the wide soft silicone skirt is very good at accommodating quite a large amount of various face shapes and sizes.
Because the F1 is frameless and very lightweight, it doesn't create a ton of pressure onto the face even at depth, and is really comfortable to wear for long durations.
The wide mask strap is designed to spread out the pressure on the skirt of the mask more evenly, creating a more even tension, and a better seal against the face.
The F1 comes in a huge variety of colors, and is available in both clear and opaque mask skirts so you can select a mask which lets more light in, or blocks light out accordingly (and they look really sleek too!)
Overall the F1 is one of the most popular budget dive masks currently on the market, and would make a fine purchase as part of your scuba gear if on a budget, or for any diver looking for a very lightweight and easily packable dive mask.
If you do choose to eventually upgrade your mask one day then the F1 will make a great backup mask, as it is so lightweight and can be folded flat it will easily store in the pocket of your BCD.
Pros
Frameless design is very lightweight & compact
Amazing value for money
Comes in a large array of colours
The silicone skirt is very soft, and comfortable
Cons
Prone to fogging if the lens coating isn't removed properly
---
Specs
Style: Single Front lens + 2 Side Windows/Framed
Strap Style: Wide/Split
Volume: High
If you're looking for a scuba mask with a purge valve then the Scubapro Crystal VU is a fantastic option.
The Crystal VU is duly named because of it's ultra clear, optical quality glass lens. The clarity of the lens is extremely high and provides high light transmission, giving you improved clarity even in low light.
The single lens has a great field of view, made even better peripherally thanks to the two side windows – Overall the lens quality, and field of vision with this make is very high.
The purge valve on this mask (situated at the base of the nose pocket) makes for very simple and even completely hands free clearing of the mask. (This could really benefit those who have trouble clearing their mask).
You simply need to exhale through the nose and the water will release out of the mask. Now, if you have a larger nose you may find this mask on the uncomfortable side.
Those with larger noses can feel the purge valve at the bottom of the nose pocket pressing up against you, and this can become uncomfortable. (I would recommend trying this mask on at your local dive shop first if you can).
The Crystal VU has a slightly higher internal volume than that of a frameless/single lens dive mask or a dual lens mask due to its two side windows.
This isn't a good or a bad thing of course, but something to be aware of depending on your needs and whether you require a low volume mask or not.
Pros
Easy to clear thanks to its purge valve
Excellent field of view/peripheral vision
The lens clarity is very high quality
Really good light transmission
Cons
If you have a large nose, the purge valve can press up against it
---
Hollis M1 – Best Frameless Dive Mask
Specs
Style: Single Lens/Frameless
Strap Style: Wide split strap
Volume: Low
The Hollis M1 is one of the best quality frameless masks currently on the market
The lens on the M1 is of exceptional quality. The "Saint Gobain Diament" temprered glass has a reduced amount of iron content within it.
This reduction in iron produces a reduced amount of green tint which is inherent in lower quality lenses and vastly improves color visibility, and improves vision in low light.
The difference in lens clarity and visibility in the M1 is noticeably superior when in comparison to a lot of other masks.
The M1 is ultra lightweight and compact, so it has a very low internal volume. The lower the internal volume a mask has then the easier it is to clear, and clearing this mask is extremely easy
It's compactness means it's also really easy to stow away in your BCD if desired.
The straps and buckles on the Hollis M1 are very high quality. It's really simple to use, and easy to adjust the strap to it's desired length (even with thick gloves on).
It can take a little bit of extra prep with this mask to get the manufacturers film off the lens, but once you eventually get it off this is a mask is one of the best!
It'd be great if it came in different colors, but you can't have it all I guess!
Pros
Very high quality lens which is distortion free/has a reduced amount of green tint
Really compact & lightweight
Low internal volume & extremely easy to clear
Very wide field of vision
Really easy to adjust the mask strap
Cons
Requires a little extra effort to get the manufacturers film off the lens
---
Specs
Style: Dual Lens/Frames
Strap Style: Wide, split strap
Volume: Low
Divers looking for a scuba mask which can fit prescription lenses should check out the Cressi Big Eyes Evolution.
The Big Eyes Evolution is designed to accommodate full corrective lenses which replace the standard non corrective ones that are in the mask (as opposed to lenses that simply stick onto the mask).
The corrective lenses are also tempered glass of course for safety, and it means you don't have to worry about a sticky lens coming loose.
All you need in order to replace the lenses is a small screwdriver. So If like me your eyesight gets worse year on year, it's at least simple and quick to replace the lenses yourself!
The silicone skirt of the Big Eyes Evo is built with comfort in mind and has two varying types of silicone. It has a more rigid inner silicone for stability and solidity, but a more flexible outer silicone (the part in contact with the face) for comfort, which is designed to leave no marks on the face!
As with all dual lens masks the major downside of them is that their field of vision isn't as great as single lens masks, but if you require a mask in which to fit corrective lenses then this is a good quality, comfortable, and very competitively priced option!
Pros
Patented technology to reduce internal volume
Available in a mirrored lens, black or clear skirt depending on preference
Corrective lens compatible, (which are user replaceable)
Designed to not leave marks/rings around the face!
Cons
Field of vision not quite as good as the others
---
Specs
Style: Dual Mirrored Lens/Framed
Strap Style: Wide, Single strap
Volume: Low
The Scubapro Spectra mask features mirrored lenses. These help to protect your eyes from the sun whilst at the surface of the water, whilst underwater they help to block out any annoying glare and improve color clarity.
The lenses of the spectra are also made from the crystal clear tempered glass that has a lower iron content then that of cheaper masks, and this further improves underwater color and clarity too.
Overall the vision, color and clarity with the Spectra is superb, and they also have a pretty wide dial of view for that of a dual lens mask.
The silicone skirt is designed to fit a variety of different face shapes, and it has push button buckles for easy strap adjustment, and the swivel buckle system has a good range of motion to help you achieve the most optimal fit
Also if you have the Scubapro Galileo computer then this mask is Galileo HUD compatible. This means you can mount your Galileo directly onto this mask keeping your essential dive information right in front of you, hands free!
You will have to take a bit more special care with this mask as mirror lens masks can scratch, (which a regular mask can too) but it's way more noticeable on a mirrored lens!
Pros
Designed to accommodate a variety of face shapes
Mirrored lenses provide glare free viewing
Galileo HUD compatible
Low volume & easy to clear
Really comfortable to wear!
Cons
Scratches to the lens will be much more noticeable than a regular lens
---
Specs
Style: Single lens, Frameless
Strap Style: Wide, Split Strap
Volume: Low
The Venom frameless mask is widely regarded as being the best scuba diving mask for those with facial hair.
If you have facial hair and typically struggle to get a proper seal with your mask, this might be the one for you as it has a very accommodating silicone skirt which is designed to seal against all different kinds of face shapes.
The soft silicone skirt on the Venom provides a very comfortable and reliable seal against the face, Atomic even describe it themselves as being Gummi Bear Ultrasoft, which about says it all really!
It has a wide split strap design, and easy squeeze adjustment buckles for quick and simple strap adjustment, even if you have thick gloves on, to help you get a comfortable fit.
With this being a frameless mask it is a very low volume design meaning that it is extremely easy to clear, and as it sits close to the face it provides an ultra wide field of view.
The main downside of this mask is the cost – It is exceptionally high quality in terms of comfort, build and performance, but with that it is also the most expensive mask on our list.
Pros
Very wide field of view
Comfortable to wear for long durations
Excellent clarity
Best scuba mask for those with facial hair
Really easy to adjust mask strap
Cons
The most expensive of our entire list!
---
TUSA Ceos – Best For Smaller Faces
Specs
Style: Twin Lens/Framed
Strap Style: Wide split
Volume: Low
The TUSA Ceos scuba mask makes an ideal choice for women and divers with smaller/narrower faces.
This twin lens dive mask will accommodate prescription lenses, and the lenses can be switched out really easily by the user (it just requires a small screwdriver to do so).
The head strap on the Ceos is adjusted easily with the buckle, which is also integrated into the silicone skirt of the mask as opposed to the frame, making the mask more low profile and compact.
The wide split silicone strap is 3D contoured to fit snugly against the back of the heads natural curvature, to enhance the masks fit and comfort.
Ultimately the Ceos is a really good quality mask at this price range, and they come in a huge variety of colours, both in clear and opaque skirt styles depending on your kind of preference. (The excellent TUSA Hyperdry snorkel comes in the same colors and these look really slick when paired together!).
There aren't many downsides to the Ceos, especially at this price point. Some users with longer hair may find that it can get tangled in the buckle if not careful. And there are other masks on the market which have better lens quality than the Ceos, but these will come at a much higher price point.
Pros
Can accommodate prescription lenses
Available in a massive variety of colors
Competitively priced
Suits women, young divers & those with smaller faces well.
Low profile and low volume
Cons
Only suited to smaller/narrower faces
---
Specs
Style: Single Lens/Framed
Strap Style: Split
Volume: Medium/High
The TUSA Freedom HD is one of the best scuba diving masks for those with larger and wider faces.
The dimpled silicone skirt of the TUSA Freedom HD masks provides a greater seal around the face than that of a flat skirt, and most users of this mask find that the mask shape and 180 degree buckle system fits most users face shapes.
The 180 degree rotational buckle system on the Freedom HD can allow for 5 different positions of the strap angle, which makes it easy for you to be able to find the optimal fit.
Despite not being a frameless mask, the Freedom HD is still a quite compact and streamlined mask that can be folded fairly compactly.
It has a double feathered edge along the mask skirt, with varied silicone thickness with thicker silicone in places for rigidity and support, and thinner in others for comfort.
The result of which is a snugly fitting mask that is comfortable to wear for long periods, by suppressing too much pressure onto the face (and not giving you giant rings around your eyes!).
The TUSA HD is a bit more higher volume than some other masks on our list, and also slightly bulkier too. But if you're in need of a larger mask which bets fits a larger face then the TUSA is a fantastic choice. So, long as it fits you then it's likely you probably won't find much if anything wrong with it.
Pros
Excellent field of view
Easy adjustment & comfortable for long periods of use
Available in a massive assortment of colors
Cons
The wide split mask strap is a little thin
---
Choosing The Best Scuba Diving Mask – Buying Guide
There is so much beauty to be seen underwater. In order to take it all in you not only want to see it as crystal clear as possible, but you also want a scuba mask that's comfortable and reliable.
The absolute last thing you want is to be 50ft deep and suffer from water leakage from a poor quality or ill fitting mask!
Here's a list of things to be aware of, and what to look for when purchasing a scuba diving mask.
Fit/Comfort
Hands down the most important aspect of your scuba diving mask is whether it fits you correctly and is comfortable to wear.
An expensive and fancy looking mask with all the bells and whistles will be no good to you if it doesn't fit properly.
A scuba mask that doesn't fit you correctly will be prone to leakage.
And! If it isn't comfortable to wear, you'll be focussed more on the frustration of an ill-fitting and (quite likely painful) mask than the beautiful underwater scenery around you.
Material
Extremely important still are the materials that your scuba mask is constructed from.
It's imperative that it's built from strong durable materials so that it is truly built to last and can withstand the rigours of travel, the pressures of the deep dea, and whatever bumps and knocks it may endure along the way!
It's also important though for the materials to be soft and comfortable to allow you to wear your mask for hours of diving on end.
(All of the masks in our list have skirts and straps made from soft silicone, and lenses made from tempered glass)
Lens
The lens should be constructed of tough and durable tempered glass.
Tempered glass is best under high pressure (like when diving deep underwater), and is hard to break.
The configuration of the lens on the other hand is a much more personal choice (single lens, dual lens or multiple), which I'll discuss in greater detail further below.
Skirt
The masks skirt, which is what creates an airtight seal around your face, should be made of soft silicone.
Silicone is soft and comfortable, but also a durable material which frames the face very well.
A cheaper less well constructed mask might have a skirt made of rubber.
Rubber is harder than silicone, much more prone to warping and degradation over time, and provides nowhere near the comfort level that silicone provides.
Skirt Color
The color of the mask skirt will be highly up to personal preference, and what you find aesthetically pleasing.
But the color and transparency of the skirt you choose isn't just for making an underwater fashion statement.
A transparent skirt will allow more light to enter the mask. Some divers prefer this type of mask in already low light conditions as they prefer the feeling of openness that this provides.
Having more light entering the mask can help to combat any claustrophobia that some divers tend to feel.
It should be noted that though that clear silicone doesn't hold it's color well over time and will eventually turn a slightly yellow-ish color!
Some divers feel the opposite though and find that a clear mask skirts let in too much light and glare, especially when diving warm/tropical locations.
A solid, dark colour skirt will block out more light so this may be preferable in bright sunny/light conditions where you may be diving in shallow water and the glare from the sun might bother you.
Many divers feel that a solid color skirt can help you to focus a lot more on what is in front of you. Not to mention, mask designs in a bright color can also make you easier to spot under water.
Internal Volume
The masks volume refers to how much air space there is inside the mask.
A low volume mask will sit closer to your face. As a result the mask has less space inside it which makes this type of mask much quicker and easier to clear than a higher volume mask.
Depending on your face shape, a low volume mask can be uncomfortable for some people. Having a prominent nose or forehead tend to be facial features that don't suit this type of mask well as the mask may put pressure onto these areas.
A high volume mask in contrast has more airspace within it, and can therefore take a little extra to clear any water that collects in them.
Some users also prefer to not have the lens too close to the face as it can add to the feeling of claustrophobia.
Low volume mask designs are very popular, but as previously mentioned, the most important thing is that the mask fits you well and that you feel comfortable wearing it.
Different Features Found In Scuba Masks
Window Type

Single Lens Dive Mask
Single lens masks have just one pane of glass.
A single lens mask with a frameless design will give you the most optimal view and a wider field of vision than a twin or a multiple lens framed mask.
This is due a frameless mask sitting closer to your face and also the fact that there is no frame going down the middle of the mask to potentially restrict your view.
A single lens dive mask whilst excellent for most divers would not be the optimal choice for those wanting prescription lenses fitted in their mask.
Pros
Fairly low volume & easy to clear
Provide an excellent all round field of vision
Typically smaller, more compact & lighter weight
Cons
Unable to support prescription lenses
Dual Lens Dive Mask
A twin/dual lens scuba mask has two windows separated by the mask frame down the middle.
The field of vision from a twin lens framed mask (which is going to sit a little further away from the face) will not be quite as wide and impressive as a single lens frameless mask.
However, the volume inside a twin lens mask is smaller than a single lens mask, making them a low volume design which is really easy to clear.
The other main benefit of a twin lens mask is that they are the best scuba diving masks for divers who would like to use corrective lenses (actual prescription lenses, not the stick on kind).
Typically it is very easy to attach prescription lenses inside them, which are in most cases user changeable with the use of a small screwdriver.
There are also many ready made prescription scuba masks that can be purchased too, saving you the trouble of having to fit the lenses yourself.
pros
Accommodating of optical lenses
Typically very easy to replace prescription lenses if/when needed
Low volume & easy to clear
Cons
Field of vision may not be as impressive
Can be a little bulkier than single lens dive masks
Multiple Lens Dive Mask
Multiple lens scuba masks have small windows at the side to help increase your peripheral vision.
These windows aim to increase your field of vision, and provide you with a better range peripherally than regular masks.
Some users of this type of mask have complained that the side windows can sometimes distort vision underwater though, which is due to the light as it refracts between these side windows.
You will also find that multiple window dive masks tend to be quite bulky, and a little heavier than other masks, and they also have a higher internal volume.
Pros
Provide a good/wide field of vision
Cons
Higher volume and more difficult to clear
Bulky
Some users complain viewing can be distorted
Framed vs Frameless Scuba Mask
For the most part, whether you choose a framed or a frameless style mask will come down to personal preference.
But, there are a few key differences between the two which may sway you either one way of the other.
Frameless Scuba Mask
A frameless scuba diving mask is constructed so that the lens is moulded directly to the silicone mask skirt.
The subtraction of a frame means that a frameless mask will sit closer to the face, and this will give you a wider field of vision, and generally have a slightly better peripheral vision than a framed mask.
Frameless masks are usually more lightweight and compact than a framed mask, making them a slightly more travel friendly option.
A frameless design which sits close to your face will have a low volume internally, which makes them really easy and hassle free to be able to clear.
Frameless scuba diving masks are very popular in general as a divers first choice mask, but they also make great backup masks too as they can be folded flat to stow away in your BCD pocket.
If you require optical lenses though, then a frameless mask will not suit as they are only available as single lens, and not twin lens.
Pros
Wide field of vision
Light and compact
Low volume design
Great backup masks as they fit easily in BCD
Cons
Frameless masks are single lens masks, which won't accommodate prescription lenses
Framed Scuba Mask
A framed mask, as you can probably guess, has a rigid frame which attaches to the mask skirt.
You can find single lens, twin lens, or multiple lens mask options are available with a framed mask, unlike a frameless mask which may only accommodated a single lens option.
Pros
Rugged and sturdy construction
Available in single, twin or multiple lens options
Cons
Can be more bulky/less compact
Purge Valve
A feature that can be found in some masks, the purge valve, may be of interest to some.
The purge valve is a one way valve that is located in the nose pocket. Its purpose is to purge/expel any water which has collected in the mask back into the sea.
When you exhale through the nose – the purge valve opens and expels the water in the mask back into the sea.
Finding The Right Fit
Hold the mask to your face, and gently press the mask to your face – As you're doing this consider how and where the mask sits on your face. (It would also help massively if you looked into a mirror whilst doing this).
Is the mask pressing into the bridge of your nose? Is the masks skirt in contact with your face properly, or is it too wide for your face?
These are important things to look and feel for when fitting a new scuba mask.
Very gently breathe in through your nose whilst the mask is pressed to your face.
A mask that's a good fit should seal easily against your face, and show no signs of moving around, and there should be no air entering the mask.
If you notice any air being able to get into the mask then this means that water will also be able to enter it too.
One final tip – Make sure you keep a straight face when trying your mask on! If you are smiling or frowning then this will affect the way the mask sits on your face.
How To Prevent Mask Fogging
Your new scuba mask will need to be treated before you first use it.
This is because new scuba masks have a layer of film over their lens which is left over from the manufacturer, and this needs to be removed.
If you do not remove this film then moisture that collects in your scuba mask will stick to the film coating of the lenses thereby creating a 'fog', blocking your vision and potentially ruining your dive!
There are two ways to remove the film left over from the manufacturing process.
The first one is by taking a non-gel toothpaste and applying it to the lens, give it a rub and leave it for a minute before rinsing it with clean water.
The second method requires a bit more skill – Take a lighter and apply it to the mask lens (be careful not to burn the silicone!). Applying a flame from a lighter will burn the manufacturing film from the lens.
Scuba Mask vs Snorkel Mask
Whilst they provide the same function and basically look the same, there can be differences between a snorkel mask and a scuba mask.
The main difference between them comes down to the quality of the materials and the masks construction.
A snorkel mask simply doesn't need to be built to the high specifications that a scuba diving mask needs to be.
There are many cheaply made snorkel masks on the market (the kind you often see in drug stores).
They may function as a snorkel mask (though I would never recommend them), but in absolutely no way should they be used as a scuba diving mask.
These cheap made snorkel masks are often built with a plastic lens and a rubber skirt.
When you are snorkeling you are at the water's surface so if something goes wrong with your snorkel mask, it usually isn't a big deal – simply lift your head out of the water and remove your mask.
Scuba masks however, due to the nature of their use must have a much higher build quality as it is far riskier if something goes wrong with your mask when you are deep underwater.
A scuba masks lens must be made from tempered glass.
Tempered glass can best withstand the pressure of the water against it.
But if it were to break, tempered glass breaks into smaller less harmful pieces, as opposed to splintering into small/sharp shards like regular glass.
The skirt and strap of your scuba mask must also be made from high grade silicone, which will give you the most comfort and the best type of seal against your face.
Low volume/low profile masks are also favored a lot by divers due to the reduced amount of air volume within the mask, meaning they are easier to clear are less buoyant.
In summary, you should not cheap out on your scuba diving mask!
Purchase a dive mask that is built from high quality materials built for the job, and which fits you perfectly and you will not go wrong.
Full Face Scuba Masks
Full face scuba masks are becoming increasingly popular with recreational divers, and you can certainly see why;
They offer an amazing field of vision, allow you the freedom to breathe through both your nose and mouth, they have a pretty anti fog design by nature, AND, many of them can be fit with comms units.
If you're considering adding one of these to your scuba gear, then check out our full length guide to the best ones on the market, and how to choose the right one for you.
(Full face scuba diving masks are not to be confused with full face snorkel masks, which are a different thing entirely).
Our Verdict
Your scuba mask will be one of the most important pieces of gear you invest in.
It's imperative that you select your mask based on what fits you and which suits your personal needs over anything else.
I hope that this guide has helped you to select the best scuba diving mask according to your requirements. Get this right, and you'll have the perfect view of the underwater world!
Need more than just a mask? Check out our other scuba gear recommendations here!