Short on time? We consider the best full face snorkel mask to be the Wilhorn Outfitters Seaview
Since their release to the world in 2014 full face snorkel masks have exploded in popularity – And with that popularity comes a flood of products into the market. Some good, and some that need to be avoided at all costs!
In this in depth review guide we are going to cover the features that you need to look for when buying a full face snorkel mask, how to use and care for your mask, and of course, which is the best full face snorkel mask?
Your full face snorkel mask will only be as good as the quality of the materials it is built from – A cheaper mask will naturally be built from inferior quality components. The components can be the difference between a comfortable mask that performs well, and an ill fitting leaky mask with a poor view.
The Top 5 BEST Full Face Snorkel Masks 2022
These masks have been selected specifically for the following reasons:
They are all well known brands from reputable companies – Companies who have put years into product development and testing.
They tick all the boxes in terms of qualities/features that are needed in a great quality full face snorkel mask (anti-fog technology, quality materials & construction)
Each company has excellent customer service.
You can't go wrong with any of these options – But you may feel one is better suited to you than another.
Keep reading as we will break down what qualities and features you need to look for in a full face snorkel mask, and for our break down of each product to help you decide which one will suit your needs the best.
Features To Look For In A Full Face Snorkel Mask
Anti-Fog Technology
The breathing chamber of the mask is separate from the viewing area – the breathing chamber directs the airflow away from your face which is what helps to prevent the mask from fogging. All of the top branded masks are highly effective in preventing fogging.
Silicone Skirt
The 'skirt' is what provides the seal around your face. A silicone skirt is far superior to a mask made with a rubber or even plastic skirt.
Silicone is more durable than rubber, and provides the best possible seal against the face, also giving you the most comfortable fit.
180 Degree Viewing Area With FLAT Lens
Whilst all full face snorkel masks have a large panoramic viewing area, some masks feature a curved lens.
We recommend avoiding the curved lens type of mask as it can distort what you are seeing, and give a 'bubble' effect. Some users even report this kind of lens giving them a headache.
Most masks nowadays feature a flat viewing screen, and these provide the best possible view.
Who Are Full Face Snorkels Masks Best Suited For
Beginners & Children
While full face snorkel masks are suitable for ALL people and abilities – The advantages that a full face snorkel mask offers can make it the perfect entry level gear for beginner snorkelers and children.
Leisurely Swimmers
These snorkels were made for people to casually float around whilst taking in their surroundings at their leisure.
If you're the kind of person who likes to amble around on the surface of the water, leisurely gliding around, this type of mask will be perfect for you to take in the beauty of the scenes unfolding beneath you
The benefit of being able to breathe either through the nose or the mouth means that many people find these masks easier to use than a traditional snorkel, as their breathing is much more natural.
Pros Of Full Face Snorkel Masks
If the following list of benefits appeal to you then a full face snorkel mask will probably be exactly what you're looking for!
Natural breathing (through nose or mouth). Makes it great for beginners – allowing you to stay more relaxed with your face in the water.
Built in dry top snorkels as standard. A dry top snorkel stops water from entering the snorkel when it is submerged in water. If a small amount of water does get into the mask – it is channelled to the bottom of the mask where the water is drained back out via a special valve
A good quality full face mask ventilates air well which minimises any fogging. A full face snorkel mask will fog less than a traditional mask due to the air flow
No jaw ache/fatigue or gag reflex. Holding a traditional snorkel in place with the mouth can become fatiguing and uncomfortable. A full face mask negates this completely meaning you can snorkel comfortably for longer.
Better field of vision than a traditional snorkel mask
Cons Of Full Face Snorkel Masks
Now every product has it's disadvantages – and the truth may be that a full face snorkel mask may not be ideal for you.
Please consider the below before purchasing a full face snorkel mask as they do have their limitations. Which are:
They cannot be used for freediving – Only surface snorkelling. The buoyancy of the mask makes diving underwater more difficult and can create pressure on the face. You also don't have the ability to 'equalise' (this is done by pinching the nose and slowly exhaling)
They are bulkier and take up more room in your suitcase than a traditional snorkel and mask. Full face snorkel masks for the entire family can take up a fair bit of luggage space!
They should not be used for vigorous swimming where breathing becomes heavy.
Full Face Snorkel Mask Vs Traditional Snorkel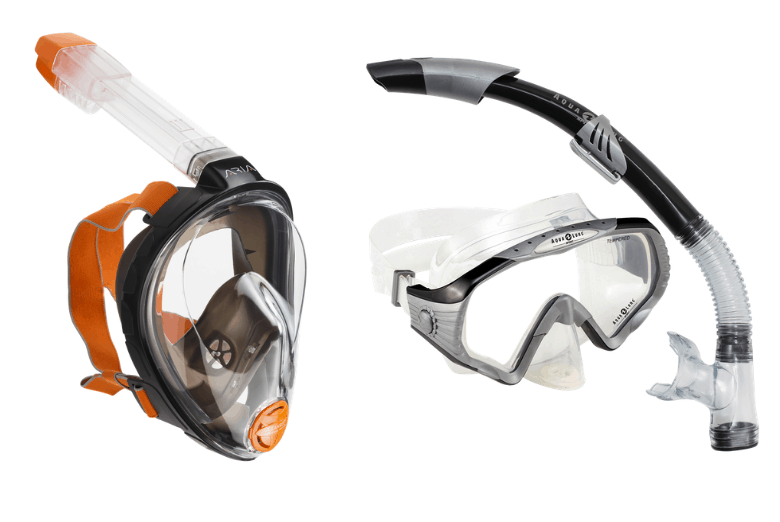 Full face snorkel masks are an excellent choice for beginners, people who are uncomfortable in water, children, and for very leisurely surface swimming.
A full face snorkel mask can be a great entry level option before advancing onto a traditional snorkel.
Here's a guide to help you assess which one of these snorkel types will be best for you and your needs:
| | | |
| --- | --- | --- |
| Full Face Snorkel Mask | | Traditional Snorkel |
| Breathe through the nose or mouth | | Breathe through the mouth only |
| The internal airflow helps keep the mask from fogging but whether the mask fogs is more dependant on care taken by the user | | Can fog a little more than a FFSM but fogging is more dependant on the care taken by the user |
| Surface snorkelling only – Cannot be used for diving underwater/freediving | | Can be used for surface snorkelling and freediving |
| Used for leisurely swimming | | Use for leisurely or more intense swimming |
| Good for snorkelling for long periods | | Jaw can become tired after a while |
| Communication – Speech is muffled whilst wearing the mask therefore your partner needs to be fairly close | | Communication – Very simple as you simply spit the snorkel out and talk as normal |
Traditional snorkels are good for, well, everything! They can be used where a full face snorkel cannot, such as for vigorous swimming, and diving down underwater/freediving.
However some people do struggle with a traditional snorkel – Traditional snorkels can cause jaw ache when used for long periods of time. Some people even have such a strong gag reflex that they're unable to use a traditional snorkel at all.
A full face snorkel mask is fairly easy to use out of the box whilst a traditional snorkel has a small learning curve.
Are you intending on being in the water for long periods of time? You can potentially snorkel more comfortably for longer with the full face snorkel mask than a traditional snorkel due to not getting jaw ache.
It's easier to communicate with others with a traditional snorkel as you can just spit it out and speak.. it's not practical to keep taking a full face snorkel mask off and on though and it does muffle your voice making it hard to hear what you are saying – With a FFSM you need to be closer to the person you're trying to communicate with.
Full face snorkel masks are better for gentler/calmer waters whilst traditional snorkels are better for choppier waters. This is because of the increased expenditure and therefore increased breathing whilst in rougher waters.
Are Full Face Snorkel Masks Safe
This is a hot topic at the minute, especially as full face snorkel masks gain in popularity.
We have written a more in depth article on whether full face snorkel masks are safe or not so we recommend you give that a read.
But if you just want the jist then the answer is YES. Full face snorkel masks are safe, HOWEVER, it is important that you use them in the manner that they were intended to be used – and that is for leisurely/surface snorkeling.
How To Choose The Right Size Full Face Snorkel Mask
Once you've decided that a full face snorkel mask is for you it is essential to pick the correct size.
If you go too small then the mask can be too tight around your face, rub against the bridge of your nose, and just generally be very uncomfortable to wear! However if you go too big you can risk water constantly leaking into the mask.
Here's a tip on how to choose the correct size full face snorkel mask:
Measure Your Face– In order to accurately choose the correct size full face snorkel mask we recommended measuring your face from your trough (the top of the nose), to your chin (make sure your mouth is closed).
You can use the size chart below to establish which mask will suit you best. This size guide features the size options of the five different full face snorkel masks that we recommend:
SIZE
Wildhorn Outfitters 180 Sea View
Tribord Easybreath
Ocean Reef Aria
Head Mares Sea Vu Dry
H2O Ninja Mask X
XS/Small
3.35 – 3.94 In (8.5 – 10cm)
–
Up to 3.9 In (10cm)
Up to 3.9 In (10cm)
–
Small/Medium
Up to 4.7 In (12cm)
Less than 4.7In (12cm)

3.9 – 4.4 In

(10 – 11.5cm)
3.9 – 4.5 In (10 – 11.5cm)
Less than 4.8In
Medium/Large
–
More than 4.7 In (12cm)
4.4 – 4.9 In (11.5 -12.5cm)
–
–
Large/XL
More than 4.7 In (12cm)
–

4.9 – 5.4 In

(12.5 – 14cm)
4.5 – 5.5 In (11.5 – 14cm)
More than 4.8 Inches
Typically a Small/Medium size mask will be Best for women and children, and a Medium/Large will be best for the average man. If you are ever uncertain – We recommend going down a size.
Defogging Your Full Face Snorkel Mask
The leading causes of a foggy mask are dirt and oil – The moisture forming inside the mask has to attach to something – So it sticks to the built up dirt and oil.
When the mask is clean and the moisture has nothing to stick to, it will simply run down and collect at the bottom of the mask instead..
Moisture can also build on the tiny imperfections of the glass. This is why spitting or using a mask defogger helps to reduce this – It forms a layer to cover these imperfections and prevent the moisture building in them.
Prevention really is the key to a clear mask. Here are some tips to help keep your mask fog free:
Clean your mask often. You can use toothpaste and a toothbrush to clean a mask made of glass (never use your fingers to clean your mask). If using a plastic/polycarbonate mask then use a soft cloth (one that won't scratch the lens), and dish soap. Clean the mask using hot water – and then rinse clean with hot water
Use an anti fogging product. Cheap way – baby shampoo diluted with water. Or anti fog product. Make sure to cover the lens with the solution entirely but do not use your hands to do this. Then rinse your mask once in the water before using
Avoid removing and replacing the mask too much – Which will allow moisture to enter.
Spit in it – The cheapest option of all. Spit in the mask and rinse it around (again, not with your hands), then quickly rinse in the water and put the mask back on.
Ensure your face is dry when putting your mask on
Preparing Your Mask Before First Time Use
There can be a film/residue that is left behind on the masks lens from the manufacturing process.
If not cleaned properly and removed before first time use then your mask can be prone to fogging.
Removing this film is actually very quick and easy, and requires nothing more than some toothpaste or soapy water – Simply apply the toothpaste or soapy water to the mask lens and gently clean the mask lens. Make sure to give the mask a thorough rinse in clean water once you're done – and that's it!
How To Care For Your Full Face Snorkel Mask
Sand is the enemy of your full face snorkel mask – It can clog the snorkel valve and scratch the lens of the mask too!
If you don't fancy a scratched lens ruining your underwater experience, and having a snorkel that leaks.. Then we recommend that you always rinse in clean warm water after every use.
Once you've washed your mask let it air dry (in the shade/away from direct sunlight), and make sure that your mask is dry before you stow it away in its bag (no-one wants to put a damp mouldy mask on their face!)
The Top 5 BEST Full Face Snorkel Masks – 2022
The below list of full face snorkel masks have all been chosen as every single one ticks the following boxes of what we consider ESSENTIAL:
Anti-Fog Technology
Dry top snorkel
GoPro attachment (whether included or purchased separately)
Well known reputable brands/companies
Design research and testing of their products
So with that being said you can rest assured that we have only chosen the best full face snorkel masks – These are the masks that are going to give you the best possible user experience.
Check it out!
---
Wildhorn outfitters are a well known company who have been making high quality full face snorkel masks for years.
They have shown a clear commitment to developing their products and not simply just cashing in on the craze like other companies have, which is just one of the reasons why we recommend them.
Their years of product development have enabled them to create their SeaView snorkel mask which really ticks all of the boxes for us. The key features and pros of this product are:
Pros
Anti Fog Technology
Silicone Skirt which provides comfortable fit and lasts longer than rubber
GoPro mount included as standard
A Wide array of colours to choose from
Excellent customer service
Best Price
Cons
Lack of accessories in comparison to the Ocean Reef Aria
The snorkel piece isn't as easy to remove as the others
---
Tribord (now known as Subea) are a well known brand that you can trust (well, we've only chosen well name brands that you can trust), but Tribord are the original innovators of full face snorkel mask.
Tribord, after many years of product development and design work, (7 years and 30 prototype designs to be exact), were the first company to release a full face snorkel mask.
The Tribords air flow design is patented, the structure of the mask itself is built of quality materials, and it feels very sturdy.
Here's a list of what we love about this mask:
Pros
Construction of the mask is of the highest quality – It feels well built and sturdy
The air flow of the mask is excellent – It's also patented so you won't find this with the other masks
Comfortable to wear for long periods
Cons
The GoPro mount must be purchased separately (although it's cheap)
Limited color options
---
If you're into accessories and bells and whistles then this may be the mask for you! As well as being a high performing full face snorkel mask the Ocean Reef Aria also has the most accessories available to purchase as well.
Cons
Easy to remove snorkel attachment for easier transportation
Comfortable for long periods
Offers a wider range of accessories than the other masks (communication system, gopro mount, marker wings + more)
The only company to offer Optical lens support
Pros
Pricier than the other masks
---
Head/Mares are a very well known and reputable company in the diving world – We love this brand for their continuing research into developing an efficient air flow system for their masks.
Head/Mares is a brand you can't go wrong with when it comes to snorkelling and diving and we love the fact that they continue to do rigorous testing on the airflow on their masks.
Pros
Very reputable scuba/snorkelling company with years in the industry
Solid construction which feels high quality
Excellent air flow system
Head/Mares take a very proactive approach into the research of full face snorkel masks.
Cons
Pricier than the Sea View and Tribord
---
The H2O Ninja X is the new and improved version over the original – We love this mask/company as they took what was already a great mask in the original and listened to what the wearer had to say in order to improve the design even further.
When you get a company that puts time and effort into its product design, creates a great product, and has excellent customer service to boot – Of course it was make our list! The first version of this mask was great in itself – The new 'X' version has now been updated with a longer snorkel and an updated and improved air flow system.
Pros
Updated airflow system to the original allowing 25% more air flow intake
Dry snorkel has two stoppers instead of just one to prevent water intake into the snorkel tube
Excellent build quality
cons
Price is on the high end in comparison to some of the others
---
CONCLUSION
The five masks that we have chosen all fit our selection criteria perfectly – The time has been taken in the research and development of them, and they're constructed from quality materials that are built to last.
We know there are a lot of options when it comes to choosing a full face snorkel mask but there is a reason we have selected just FIVE of them.
Since this type of mask is such a popular option nowadays, (and only seem to be getting more popular) – there are many cheap, poorly made knock offs floating around that we really do implore you to avoid.
We have selected only the best of the best, with the Wildhorn Outfitters mask being our favourite.
Do you have any questions regarding purchasing a full face snorkel mask? Don't hesitate to ask us below!
best full face snorkel mask
best full face snorkel mask